Air New Zealand Is Launching Bunk Beds in Economy Class Next Year
The airline's new "Skynest" is set for a September 2024 debut.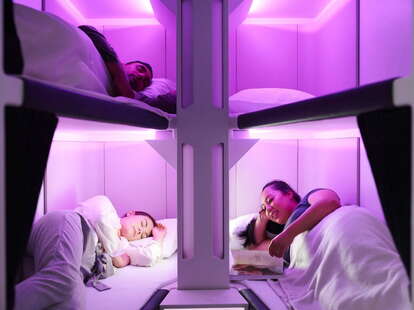 Courtesy of Air New Zealand
Courtesy of Air New Zealand
Lately, the world's top airlines seem to be engaged in a friendly competition to see who can make sleeping on an airplane feel as much like sleeping in a cozy, luxurious hotel room as possible. Several airlines have come out with new seating arrangements that come close, though usually they are reserved for their most deep-pocketed customers only.
Air New Zealand's new "Skynest" sleeping pods are changing that. The pods, first announced in February 2020, will be available for the airline's economy travelers starting in September 2024, as the Washington Post reported this week. This is believed to be the first lie-flat option available for economy travelers on any airline.
The pod design, which features six economy pods arranged in two triple bunks, is the result of three years of research and development, the company said. Each 6.5-foot-long pod comes with a pillow, bedsheets, and privacy curtains. And yes, you'll be able to charge your phone so you can scroll Instagram instead of sleeping.
"We wanted to offer our Economy customers a lie-flat option and that's how Skynest was born," Greg Foran, the airline's CEO, said in a previous statement shared with Thrillist. "It's going to be a real game changer for the economy travel experience."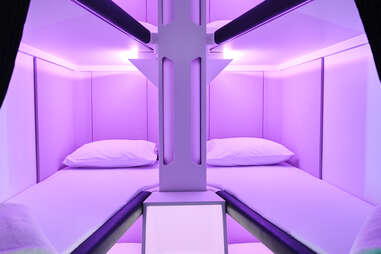 The pods will be available on each of the airline's long-haul and ultra-long-haul flights on its wide-body planes as well as its new Dreamliners, which are joining its fleet next year. The airline is also launching new Business Premier Luxe suite as well as new Business Premier seats on the Dreamliners.
"Our new cabin experience is set to be world class, and we know our customers will love it," Foran added.