This Airline Is Putting Triple Bunk Beds in Economy Class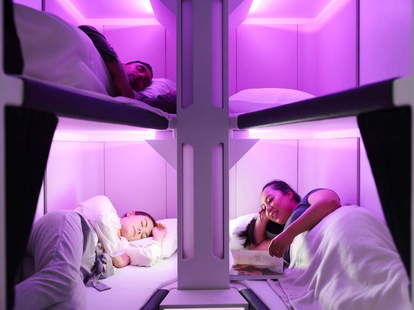 Courtesy of Air New Zealand
Travelers have been debating the morality of seat reclining since airlines first provided the feature. Proponents claim people have the right to comforts afforded to them by the airline, while those against the act believe recliners are inconsiderate jerks. But what if there was another option, like, say, a place to lie completely horizontal in economy class? Enter: Air New Zealand's new "Skynest" sleeping pods.
The pod design, which features six economy pods arranged in two triple bunks, is the result of three years of research and development, the company said in a press release. Each 6.5ft-long pod comes with a pillow, bedsheets, and privacy curtains. And yes, you'll be able to charge your phone so you can scroll Instagram instead of sleeping. 
The airline's Chief Marketing and Customer Officer Mike Tod said the airline has "a tremendous amount of development work underway looking at product innovations [it] can bring across all cabins of the aircraft," and that the pod was an effort to drastically reduce discomfort on long-haul flights.
FYI, the pods aren't widespread quite yet, but an Air New Zealand representative told CNN that the design meets "all regulatory requirements." You can expect news of the final decision to come out in 2021, after the pods are tested on Auckland-New York flights.
"We see a future flying experience where an economy-class customer on long-haul flights would be able to book the Economy Skynest in addition to their Economy seat, get some quality rest and arrive at their destination ready to go," said General Manager of Customer Experience Nikki Goodman. "This is a game-changer on so many levels."
One more thing... If you have a problem with people kindly and considerately reclining their seats on flights that are nearly a day long, you should rethink your choices.
Sign up here for our daily Thrillist email and subscribe here for our YouTube channel to get your fix of the best in food/drink/fun.