Airbnb and Bumble are Teaming up to Make Your Virtual Dates a Little Less Cringe
Make tacos, meet sheep, and stare into each other's pixelated eyes.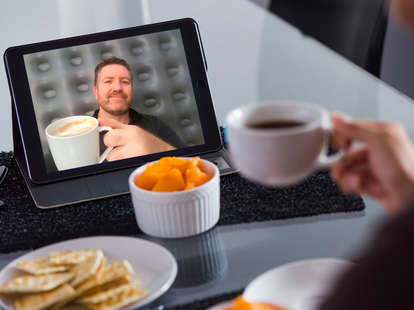 Christian Vinces/shutterstock
Dating, like exercise, is often a tedious means to a desirable end, and COVID restrictions have only made the two efforts more complicated. Thing is, FaceTiming someone you've bantered with on a dating app is a bit more uncomfortable than taking a virtual fitness class with strangers, because burpees at least give you something to do with your hands.
But now the dating app Bumble and rental site Airbnb have collaborated to provide a solution to the lack-of-activities problem. They're putting Airbnb's Online Experiences platform to use, by creating a curation of online activities that are fit for couples or could-be-lovers. The Experiences sign up process basically works like IRL Airbnb experiences or rentals. You reserve a spot and pay the host online.
Bumble's role in this collab is through a sponsoring a contest, wherein 100 Bumble users will be selected to go on their first virtual dates via the Airbnb platform. The contest is open for US Bumble users from May 14 through May 28, 2020. Here are the rules, which include detailed instructions for how to enter. Basically, you open the Bumble app in Date Mode (there's a Bumble friends option, lol), swipe right when presented the contest profile card, and swipe right on some hotties after you enter.
Here are some of the options available to you and your date:
It's a strange time for meeting people, in part because we're all desperately looking to connect in new ways. Hinge has made it a lot easier to ask someone on a virtual date in the first place, by giving you the option of privately selecting "I would do it if you would do it" and revealing your interest only when it's mutual. And the demand for novel connection has pushed Tinder to make its Passport feature free, so you can send Google translated sexts to someone in Paris. J'adore.
Sign up here for our daily Thrillist email and subscribe here for our YouTube channel to get your fix of the best in food/drink/fun.
Ruby Anderson is a News Writer at Thrillist. Send your tips to randerson@thrillist.com.