Photo by Tim Coy
Photo by Tim Coy
More and more options are cropping up for travelers who want center cannabis experiences as part of their vacation. Even Airbnb is getting in on the trend.
The company announced a new limited-time stay at a Northern California farmhouse overlooking the 60-acre Sonoma Hills Farm, which uses regenerative farming practices to grow cannabis and hemp crops. In addition to the beautiful home and grounds, host and Chief Cannabis Cultivator Aaron Keefer (is that a nom de smoke plume?), who was formerly the lead culinary gardener at Napa's The French Laundry, will join guests.
"Our goal is to normalize growing hemp and cannabis by demonstrating it's just like any other plant, with benefits to both humans and the earth. By offering an insider's look into how we carefully cultivate our products—be they vegetables or cannabis strains—we hope to offer a stay that's equal parts relaxing and enriching," Keefer says. "By connecting with the land, guests will leave with a different perspective than when they arrived and will have supported our farm in a meaningful way."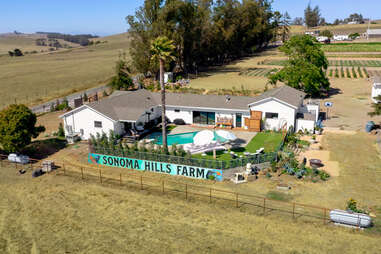 Due to "regulation and legal limitations," according to Airbnb's fine print, you might be next to a cannabis farm, but you're not visiting that part of the farm. You're staying next to the farm and will have a visit through a cannabis hemp farm instead.
There will be three one-night stays available from April 30 to May 3 for $60 a night. (That's a dollar per acre.) Though, the fine print says the stays are limited to California residents who are at least 21. That low price includes a place to rest your head, a private pool looking out at the farm, time checking out the farm's regenerative practices, food from the farm, CBD products from "friends of Sonoma Hills Farm," and candles from Garden Society. Plus, Airbnb is making a donation to Regeneration International, which works to reverse global warming and fight world hunger through regenerative agriculture and land management.
All you have to do is be one of the lucky people to book the stay. It'll probably be a mad rush, though. The bookings become available on April 20 at 10 am PT. Be sure to stretch and get that cup of coffee with time to spare.