Staying the night in a haunted -- or supposedly haunted -- house will get your blood pumping, even when the house doesn't require a waiver, safe word, and a fresh set of butt-huggers. (Yes, there is one that does.)
Airbnb has selected nine stays that will test your mettle. The haunted spaces are located across the US (plus one in Germany and one in Canada), and each of them will be just $31 the weekend after Halloween -- either the night of November 1 or 2. That price is pretty damn low, even if you aren't trying to scare yourself in the name of a holiday that's mostly about candy. Though, these haunted sites are about "real" ghosts rather than the creepy vibe you might find at a place like the Addams Family Mansion.
If you're brave enough to handle it, they're waiting for you. The houses. Not the ghosts. They're not waiting for you. Or, they probably aren't.
Recommended Video
Please Don't Hang Up: The Best Things to See, Eat, and Do in Seattle, WA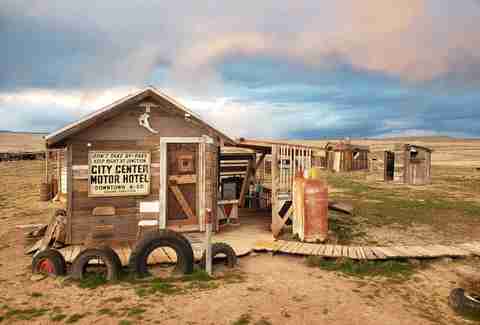 Creaky doors and footsteps in the night are one thing, but isolation doesn't require a belief in ghosts to be eerie. The Cisco Post Office and the Pace Bros. Shack in Cisco, Utah are both places you can rest your weary head if you want to stay in an actual ghost town. 
There's also the aptly named The Haunted House in Ontario, where guests say they've seen the late owner of the home, Carl Beck, and his wife Mary carrying on long after their deaths. That set-up is similar to the Inspiration House in Oberlin, Ohio, which the owner asserts is haunted. You get the added bonus of a guide because the owner is a psychic and occult researcher as well. 
For a slightly different vibe, Airbnb has included the Rensow Manor Retreat in Rensow, Germany. The description says the house's foundations are 1,200 years old, and it's occupied "by the ghosts of the Slavic gods." At a minimum, you might spook yourself wandering the manor at night as many of the rooms are lit only by candlelight.
 
Other haunted homes in the package include the Gettysburg Historic in Aspers, Pennsylvania; the Enslin Mansion in Troy, New York; the Manor Master Chamber in St. Paul, Minnesota; and The Stroud House in Wake Forest, North Carolina. It's definitely not too late to plan something spooky for Halloween. 
Sign up here for our daily Thrillist email and subscribe here for our YouTube channel to get your fix of the best in food/drink/fun.