There's an Incredible LEGO Home on Airbnb and You Can Stay for Free
Airbnb's "Night At" contests are usually wildly unique experiences like spending the night in the Guinness Storehouse or getting to hang out in the secret lair of the Teenage Mutant Ninja Turtles. For a specific kind of nerd, this new contest is about as good as it gets.
You could stay at the LEGO House in Billund, Denmark. The team has built an entire apartment of LEGOs (duh) inside, and you can spend the night. The living room has LEGO chairs and LEGO tables. You'll eat at the LEGO restaurant, and sleep in a bed floating in perfume. Just kidding. It's floating in LEGOS. Everything is LEGOs.
Airbnb
The contest winners will be "the first and only guests" to ever stay at the LEGO House, built on the location where LEGOs were invented in 1932.
You can build whatever it is you've got bouncing around your brain because there are 25 million bricks available to you. The winners will get to stay the night on November 24 when the LEGO House closes for the day to ensure all 25 million bricks are available to you and only you. You'll also get tips and tricks from a LEGO master builder, who can tell you that it's going to be very difficult to build an elaborate shrine to Lando Calrissian in a single night. But don't let that stop you. You can do whatever you want.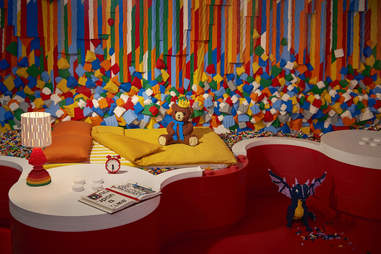 Airbnb
Airbnb
Airbnb
Sign up here for our daily Thrillist email, and get your fix of the best in food/drink/fun.
Dustin Nelson is a News Writer with Thrillist. He holds a Guinness World Record but has never met the fingernail lady. Follow him @dlukenelson.