Airbnb Is Turning Its Experiences Into Virtual Trips You Can Take From Home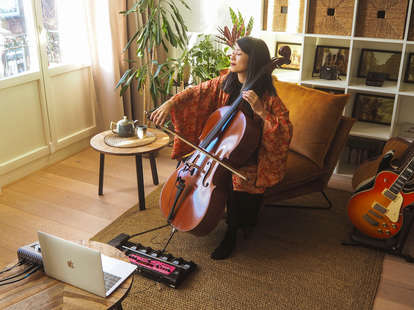 Some things were, just a month ago, so familiar that they blended into the fabric of life. Now, they stick out like your neighbor who juggles on a unicycle in their front yard. It's things like people shaking hands on TV, a friend not being able to have their usual birthday party, or the presence of companies like Airbnb.
Airbnb bookings may be gone, but they don't want to be forgotten. The company is bringing its Experiences platform online, it announced on April 9. You'll be able to virtually take classes or experience distant and not-so-distant places as you might normally through Airbnb Experiences, except, you know, you'll still be at home like you always are now.
There's an impressive array of virtual journeys on the site and many of them are reasonably priced, offering cheap activities for you and an income source for people who might have other avenues of income cut off because of the COVID-19 outbreak. The online Experiences include meditation with Buddhist monks (starts at $10 per person), visiting the dogs of Chernobyl ($35/person), cooking with a family in Morocco ($16/person), a magic lesson ($20/person), a coffee tasting masterclass ($4 person), or cocktail history and lessons ($20/person), among many, many other options.
The site touts the offerings as avenues for escape, to have an experience with coworkers from which you're separated, a family activity, or even a way to have a virtual birthday party.
"Human connection is at the core of what we do," Catherine Powell, head of Airbnb Experiences, said in a statement. "With so many people needing to stay indoors to protect their health, we want to provide an opportunity for our hosts to connect with our global community of guests in the only way possible right now, online."
If you're missing the ability to travel, it's a good reminder of everything that's still out there.
Sign up here for our daily Thrillist email and subscribe here for our YouTube channel to get your fix of the best in food/drink/fun.