The Wheels on This Airbnb Bus-Cabin Don't Go Round & Round, But You Can Sleep in It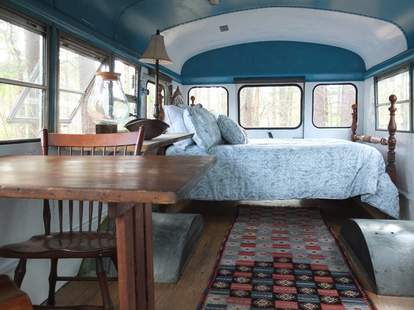 It's been quite a year for glamping, and for good reason. But there's something about staying in a 20-foot tent with wood floors and a ceiling fan that turns the great outdoors from the solvent in which our primal bodies dissolve into mere garnish atop a fabulous overnight experience. Thankfully, there's a happy middle ground available to you on Airbnb: Glamping in the familiar and humble school bus. 
The Airbnb bus, located in the Black Mountains just outside of Asheville, North Carolina, is completely gutted of it's the typically porous and vandalized two-seaters. In its place is a full-sized bed, a working sink, and a dining area.
Airbnb
There are also many of the typical perks that come with glamping: You'll have electricity, a coffee maker, soap, towels, and a pack 'n play travel crib for the little one. Note that you'll still have to wait until exiting the vehicle to use the bathroom, much like in the days of holding an incredible pee for 20 minutes while the popular boys screamed expletives in the back of the bus. Thankfully, this bus is PG -- in fact, it's available to us for an incredibly wholesome reason.
airbnb
"This bus is a special project," the owners explained in the listing. "We are using the funds generated from guests like you to sponsor an artist residency here at Sparklebark during July and August." The owners added that this residency will be an "inspiring retreat to LGBTQ southern artists, free of charge."
PS: The Black Mountains are incredible. They're the highest in the Eastern United States. If you're big into hiking, we recommend summiting the East's highest point on the 12.5 mile Black Mountain Crest Trail.
Sign up here for our daily Thrillist email and subscribe here for our YouTube channel to get your fix of the best in food/drink/fun.