This Virtual Drag Experience is a Sangria-Making Class for the Soul
The lively show has gone fully online, but hasn't lost its luster
Courtesy of Airbnb
Courtesy of Airbnb
As the world went under lockdown, Airbnb's Online Experiences platform provided a window into the entrepreneurial world of Making it Work. Musicians threw humble living room concerts, and chefs who once invited guests to their homes for intimate local cooking classes started broadcasting recipes to tipsy folks across the world. Even among many innovative new classes, the Sangria and Secrets with Drag Queens mixology class shines bright. It's a brilliant concept with flashy visuals, and and a concept that seems like it would be difficult to pixelate.
Sangria and Secrets is "much more than a live cocktail class," according an event description. The experience is curated by Drag Taste, a Lisbon-based team that enables locals and tourists to cook and dine with drag queens at events like "Drag Brunch" and "Dinner with Queens." Of course, due to COVID restrictions, the queens have been forced to make the experience virtual. Their new Airbnb class lasts about an hour and a half and runs around $34 per person (pricing depends on the time slot). The queens instruct up to 30 people at a time on how to make authentic Portuguese sangria, while sprinkling cabaret-style performances throughout.
But how would Drag Taste, whose members were social distancing in Lisbon, manage to film together while Portugal was stifled by COVID restrictions?

Pedro Pico, the Sangria and Secrets' lead hose, told me that the seven queens involved in the online class have actually lived together in the city for quite a while now, which made the virtual shift safer. That didn't mean the transition to a fully online experience wasn't still a challenge. He still had to worry about paying salaries, rents, and expenses for a group that relied heavily on tourists so. On March 10, he told his crew to go home and start thinking about creative online solutions.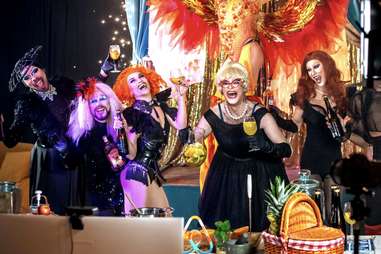 "It took us 14 days to come up with an online concept for us to sell to our guests," Pico told me. "After lots of bad and some good ideas, we came up with this Sangria and Secrets with Drag Queens Online Experience. We presented it to Airbnb, and in the beginning, everything was kind of terrible -- the concept, the structure of the class, the sound, the image, the WiFi connection. This was an entire new business model. We were not used to it, for sure."

Pico had equipment from a past life as a YouTuber, and Airbnb, of course, provided the platform. The seven roommates began rehearsing, clocking ten hours straight on the night before the launch. As they began hosting classes, they added red curtains, smoke effects and disco lights, among other dazzling set enhancements.

"Our Sangria and Secrets with Drag Queens show is completely crazy from start to finish, as we have several mini-shows from the beginning through the grand finale," Pico said. "We always add a small touch in the end, which is our very special 'spell'." When the spell is cast, the music starts, thunderstorm noises rumble, smoke rolls into the frame, and the host comes out in a cape, lip-syncing.
"Our Drag Queens are choreographed in the back, dancing while the spell goes on. People at home dance as well, and always cheer in the end."
And no, these events aren't just for the bachelorette set, though the group has done its fair share of those parties, as well as weddings, birthday celebrations, and first dates.
"We even had two people that met online during quarantine and booked the whole class just for them, so they could have their first-ever date, virtually. And it was the cutest thing ever, both of them making the sangria in their homes, talking with each other and with us, laughing and flirting with their eyes. We made sure they virtually kissed in the end."
Pico said the team also hosts kids, single people, couples, companies, families that are far apart, mixologists who are focused on learning the skill, and healthcare professionals.
"We have been getting so many doctors, and nurses from all over the world. The other day, we had 19 nurses from New York. They were tired and had a full day off. They connected online, they smiled, they danced, they relaxed, they made sangria and felt like going to a bar together with us. One of them cried, and some of us did, as well."
Happy tears aside, Pico said he has enough funny stories to write a book.

"There are lots, from the guys that want to show us their sangria syrup, but then accidentally spill the syrup on the floor while trying to show us their sauce-pan to the camera. There are those who, right in the end of the class, have a marvelous jar of strawberry Champagne sangria with the fresh mint and all of that, and just drop it in the floor by accident, and we can't all stop laughing, and they do, too, while showing us everything."

And my personal favorite:

"There's the 93-year-old lady from Texas, with her daughter in quarantine at home. I told her a joke and she couldn't stop laughing and her teeth fell down inside the sangria gin glass. I couldn't contain myself. Neither did she."

Pico says that, while Airbnb serves an important facilitator of these online classes, our fundamental human spirit is the true driving force.

"We, as humans, are so creative. No matter what the problem or the situation is, we still find a way to feel connection."
Sign up here for our daily Thrillist email and subscribe here for our YouTube channel to get your fix of the best in food/drink/fun.
Ruby Anderson is a News Writer at Thrillist. Send your tips to randerson@thrillist.com.