Airbnb Is Offering Free Housing to Ukrainians & Suspending All Operations in Russia
Airbnb is taking action as the crisis continues to unfold in Ukraine.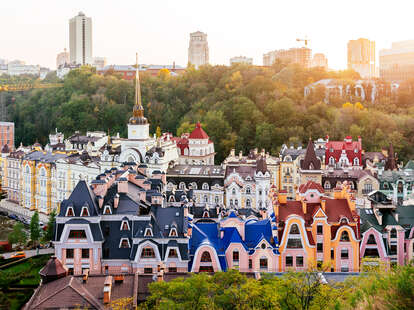 Alexander Spatari/Moment/Getty Images
Alexander Spatari/Moment/Getty Images
With more than 500,000 Ukrainians forced to flee in response to the Russian invasion, Airbnb is taking action. The rental marketplace announced plans earlier this week to provide free, short-term housing for refugees while also suspending operations in Russia and Belarus.
Airbnb has partnered with the humanitarian organization HIAS, which supports refugees with the resettlement process, to relocate Ukrainians to safety in Poland, Germany, and Hungary.
"Airbnb.org will work directly through nonprofits on the ground, who are responsible for booking and coordinating stays for refugee guests, regardless of nationality, race, ethnicity, or how they identify," Airbnb said in a blog post.
News of the company's plans to cut ties with Russia came directly from the CEO Thursday morning. Brian Chesky took to social media to personally share the update.
As the crisis unfolds in Ukraine, good samaritans worldwide are using Airbnb to support those affected directly. People have been booking local stays throughout the country to provide financial means for residents while not actually staying there, Mashable reports.
"We know that Hosts and guests on Airbnb around the world are eager to stand up and assist this massive effort to help those fleeing Ukraine," added in its post. "Anyone who is interested in supporting this initiative, including by offering free or discounted stays can go to airbnb.org/help-ukraine to get involved."