This Luxe New Airliner Has Glass Floors, Private Bedrooms, a Bar, and Lounge
Q Design/Airlander
Q Design/Airlander
You could describe modern air travel in a lot of ways, but the words "comfortable" and "laid back" probably wouldn't be the first to come to mind. Cramped seats, pricey baggage fees, rancid smells -- they're all par for the course while riding the friendly skies in 2018. That's why it's so encouraging and refreshing that there's a new airliner that's all about turning long-haul flights into a luxurious and leisurely cruise through the clouds, complete with lounges, a bar, and panoramic views of your surroundings through giant windows and a glass-bottomed floor.
Meet the Airlander 10.
Essentially a yacht in the sky, the Airlander 10 has actually been in development for a few years now, but its cabin interior was just revealed by Design Q, the firm tasked with giving it first-class digs. It's also important to note that it's less an airplane and more of a butt-shaped airship, traveling quite a bit slower than a traditional commercial jet, and taking up to three days to reach its destination. That's actually part of the allure though, since inside it's decked out with enough private bedrooms, communal lounges, bar spaces, and high-end dining options to treat up to 19 passengers to what would essentially be a luxury cruise in the air.
Unlike most premium private jets on the market, this thing is incredibly spacious. Specifically, its cabin is 46 meters long, which is larger than most single-aisle commercial aircraft, and there are a number of en-suite cabins for guests to relax and rest in privacy. There are also full-height windows throughout, providing sprawling views of whatever's down below, and a few areas where you can even look out through the floor.
While there's only enough room for you and 18 of your besties (plus the crew), it can accommodate a variety of layouts and seating configurations depending on the crowd. The standard configuration features private bedrooms, the "Infinity Lounge" toward the front of the aircraft, and "The Altitude Bar" in the center, where guests could mingle while sipping cocktails and grabbing a bite from whatever on-board catering options are available.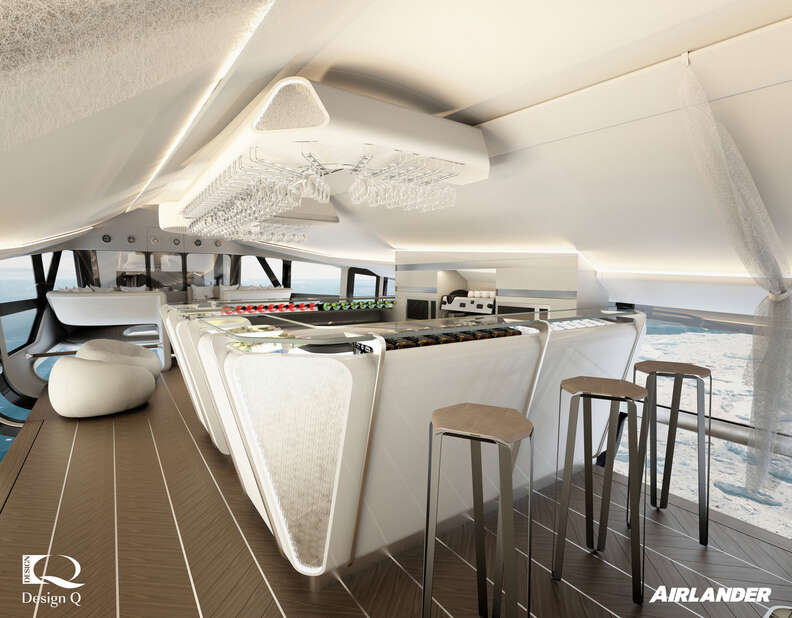 The other standout feature is that the rig is engineered to be able to land on pretty much any flat surface, and doesn't require a runway or special port to go up or come down. That means that it would be capable of accessing remote or untouched areas that are traditionally off-limits to traditional jets, and could potentially make a number of scenic pitstops between long-haul destinations.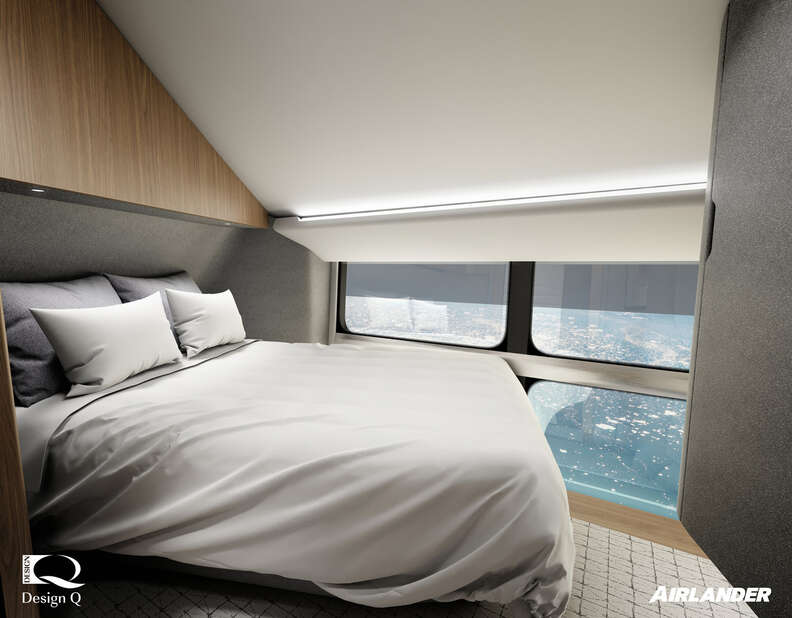 At the moment, there's no word on when the Airlander 10 will start shuttling its first guests, since it'll need to conduct 200 incident-free test flights before it's allowed to bring passengers aboard, but it's already made a few. However, it's also encountered a few hiccups, including a crash landing back in 2016. There's also no indication of what pricing will be, but it's safe to assume it'll cost you a pretty penny to hitch a ride.
Sign up here for our daily Thrillist email and subscribe here for our YouTube channel to get your fix of the best in food/drink/fun.