The World's Largest Flying Butt Returns to the Skies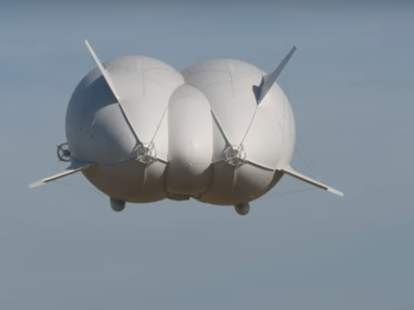 The Airlander 10 is the world's favorite aeronautical punchline, being that it resembles a massive butt. A year ago, the airship crashed during its second test flight, nosediving into an airfield just north of London. But earlier this month, the helium-powered vessel -- which also happens to be the world's largest aircraft -- returned to flight without plummeting to Earth, delighting those who enjoy ass-centric metaphors in the sky. 
"It was truly amazing to be back in the air. I loved every minute of the flight and the Airlander itself handled superbly. I am eager to get back into the cockpit and take her flying again," said Dave Burns, Chief Test Pilot of Hybrid Air Vehicles (HAV), the company that's developing Airlander 10.
Originally devised as a US military project, the Airlander is poised to reinvent long-distance aviation in a number of areas, providing an "ultra-long endurance platform that will be useful in a huge number of roles from search and rescue, to border control, coastguarding, crowd monitoring, security, filming, academic research and filming," according to HAV. It's a 302ft ship that relies on 1.3 million cubic feet of helium to achieve liftoff -- yes, it's a gassy butt that flies -- and it can reach altitudes up to 16,000 feet while traveling at a top speed of 90 mph.
Eventually, Airlander will be pivotal in point-to-point cargo transportation between remote areas, especially on long-haul operations, as it can stay afloat for more than two weeks at a time; it's designed to carry heavier loads than other aircraft while using less fuel. Also, it looks like a giant ass. 
It's successful return to the skies, achieved during a 180-minute test flight on May 10, cemented a number of milestones, such as establishing basic handling characteristics of Airlander and collecting data related to flight performance. HAV staff were pretty jazzed about the accomplishment, especially following last year's disappointment, which caused major damage to the aircraft that required repairs: "This is a great testament to the tenacity and ingenuity of the team of engineers at Hybrid Air Vehicles, who are continually pushing the boundaries of aviation with this amazing aircraft," said Technical Director, Mike Durham.
The company hasn't specified when Airlander 10 will take its next flight, although remaining tests will most likely take place at least a week or two apart. For the most realistic video of a flying butt you'll probably ever see, check out video of the successful test-flight below. It's a booty-full piece of ass-viation. (My apologies). 
 
Sign up here for our daily Thrillist email, and get your fix of the best in food/drink/fun.
Sam Blum is a News Staff Writer for Thrillist. He's also a martial arts and music nerd who appreciates a fine sandwich and cute dogs. Find his clips in The Guardian, Rolling Stone, The A.V. Club and Vice. He's on Twitter @Blumnessmonster.