Not sure where to place your trust this busy travel season? The American Customer Satisfaction Index Travel Study has just been released, and it details which airlines, hotels, car rental companies, and online travel agencies are leaving people most satisfied. The report shows which companies exceeded expectations, and which ones have room for improvement. These findings were based on interviews with 10,588 customers between April 2022 and March 2023.
Overall satisfaction accounts for multiple factors, including quality, reliability, customer service, and cleanliness. Here are the ratings for the top companies in each category.
Hotels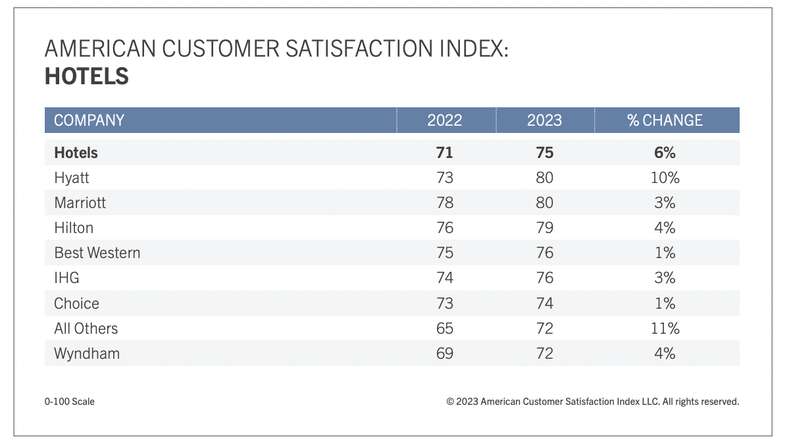 As you can see in the chart above, travelers' overall satisfaction ratings for hotels grew by 6% between 2022 and 2023. The hotel interviewees rated Hyatt and Marriott the highest. And while Hilton and IHG both received higher ratings compared to 2022, they didn't manage to beat out Hyatt and Marriott ratings.
The report noted that the industry is facing ongoing challenges when it comes to staffing and the supply chain, but that guests appear to feel that they are getting more value for their stays, and that hotel amenities and food services are also improving.
"After two years of decline, a sweeping surge in guest satisfaction with hotels could signal that the industry is moving past the pandemic," said Forrest Morgeson, assistant professor of marketing at Michigan State University and director of research emeritus at the ACSI, in a statement. "Concurrent with a wave of pent-up demand, the positive momentum is widespread as all hoteliers increase satisfaction year over year."
Airlines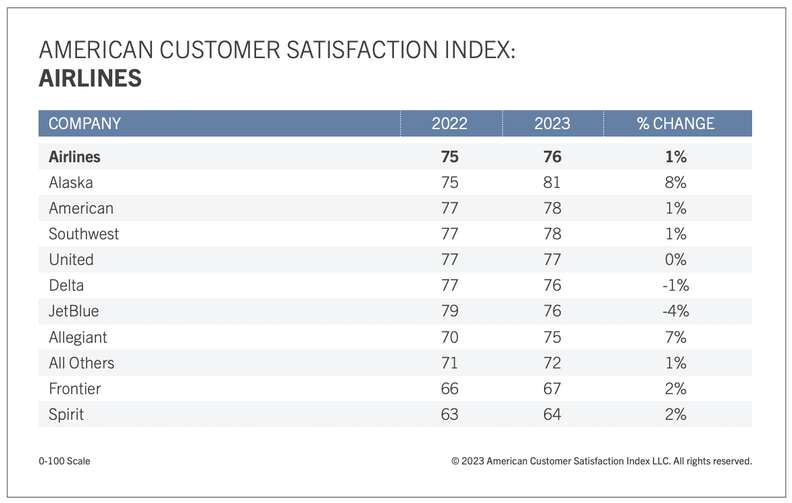 Flying wasn't the most pleasant experience in 2022. Cancellations and delays seemed to be the defining traits of the industry, especially during pivotal holiday seasons. It appears the industry is off to a better start this year, thoguh, as customer satisfaction with airlines increased by 1% from 2022 to 2023.
Alaska came in the top spot for airlines this year, followed by American and Southwest. Delta and JetBlue both performed below their 2022 rankings.
Car Rentals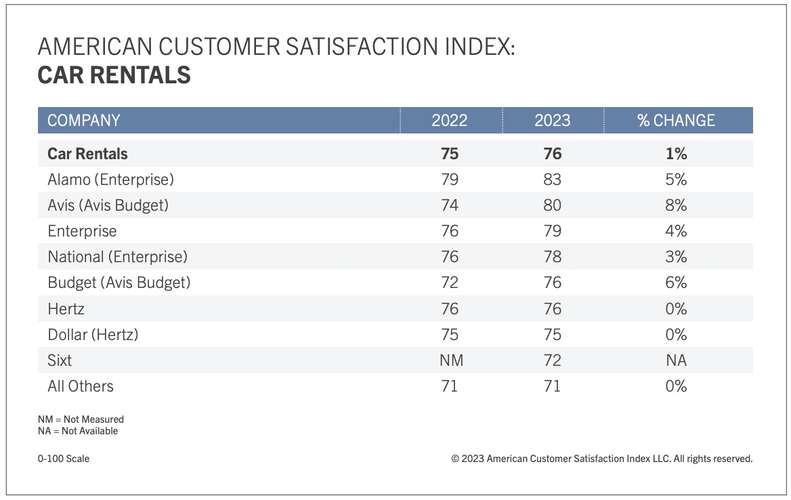 Overall satisfaction increased with the car rental industry by 1% from 2022 to 2023, with Alamo in the top spot followed by Avis. Enterprise came in third and National came in fourth.
"While the industry's satisfaction surge was slight, car rental companies didn't exactly sit in neutral," the ACSI report stated. "They were able to restock their fleets after a big dip in 2020 and used their time wisely to up their game in everything from reservations technology to staffing. ACSI data show that customers were much happier with vehicle variety and appearance, as well as pick-up and drop-off locations, compared to a year ago."
Online Travel Agencies
Online travel agencies also saw a marginal industry increase in user satisfaction, with an overall gain of 1%. Expedia came out on top for the 2023 ranking, with Booking.com and Trivago coming in second and third place.
You can view the complete study here, which includes in-depth information on each industry's quality, reliability, ease of use, and other important factors.