These Major Airlines Are Waiving Change & Cancellation Fees Due to Coronavirus
If you're planning to travel any time in the near future, there's a good chance that the spread of COVID-19, or coronavirus, is on your mind, and understandably. Governments have imposed travel restrictions, major events have been called off, and airlines are scaling back service to countries with high numbers of cases. With that in mind, major carriers are temporarily doing away with their usual penalties for changing or canceling your flights.
Popular airlines -- from domestic favorites like Delta to international ones like British Airways -- have issued new policies in response to the virus' spread across the globe. The idea is that if you're concerned about traveling due to coronavirus and don't want to take any chances, you can change your plans without having to deal with any additional fees. For many of these airlines, the waiver applies to both domestic and international trips -- and not just flights to countries with travel restrictions or warning, such as China, Iran, South Korea, and Italy. For example, if you're flying from New York to San Francisco on JetBlue, you can cancel or change your flight for free if it's before June 1 and if you booked it before March 11.
Keep in mind that the coronavirus outbreak is a rapidly evolving situation. Additional changes to the way we move about the country and the world can happen at any time. Your best bet is to read up on the latest travel information from the Centers for Disease Control & Prevention (CDC). The World Health Organization (WHO) is also issuing travel advice updates as the world's response to the outbreak continues to develop. Of course, there's a chance that airlines will update or revise their policies again based on the latest information, but for now, here's what you should know:
Alaska Airlines
The popular West Coast carrier is allowing customers to change and cancel flights, regardless of when the tickets were purchased, according to the company's blog. If you opt to cancel, you'll receive a full refund to your Alaska account for future use.
"We understand that information about the coronavirus is creating confusion and anxiety for some. Our first goal is to keep our guests safe, and offer peace of mind when it comes to flying with us," Andrew Harrison, executive vice president and chief commercial officer, said per the blog post. "So, through this period, if you need to change your plans after booking a flight, we'll work with you on new arrangements and you won't have to worry about any change or cancellation fees."
American Airlines
On March 10, American updated its change policy as well, extending the offer to include tickets issued on or before February 11, 2020. Impacted travel dates include January 24, 2020 through October 23, 2020 and new travel dates include January 24, 2020 and December 31, 2020. American's change fee waiver page has all the details.
Air France
If you purchase an Air France ticket, you can push back your trip to a later date for free, regardless of where you're going, according to the airline's website. You have to stay in the same booking class, and you have to go to the same destination.
As the airline website states, "Since the outbreak of the Coronavirus COVID-19, we have been doing everything possible to assist our customers and allow them to postpone or cancel trips planned to/from areas with a risk of exposure. We are now extending these measures to our entire network, for reservations to come and bookings already made."
British Airways
The UK-based airline said it is waiving all change fees on trips booked between March 3 and March 31, including travel packages that include hotel and car rentals. In fact, BA will let you change your plans without a penalty all way up until the flight's departure time. Like other carriers with change fee waivers, you'll have to rebook for a trip within a year and you'll have to pay any difference in fares, according to the airline's website.
"Flexibility is everything during uncertain times and we're passionate about offering as much freedom as possible," the company states in the new policy. "This means you can book with confidence as our policy applies right up until departure without having to pay the normal change fee."
Delta Air Lines
On March 9, Delta announced an update to its waiver policy, allowing customers free change and cancellations through the end of April. The offer is valid regardless of when the original ticket was purchased or where you are traveling to, according to Delta's website. If you cancel your flight entirely, you can apply the value to a new ticket for a flight within a year of your original purchase.
"As concerns continue about the coronavirus known as COVID-19, we are doing everything we can to ensure the safety and security of our customers and employees,'' Delta said in a statement Monday. "We have adjusted flight schedules to affected areas, waived many change fees and are working with customers to adjust travel plans, using relationships with other airlines when needed.''
Hawaiian Airlines
Hawaiian is offering a one-time change fee waiver on all flights booked between March 1 and March 31, 2020. Additional changes beyond the initial rebooking will result in the airline's usual charges. Hawaiian Airlines posted the full fee waiver on its official website.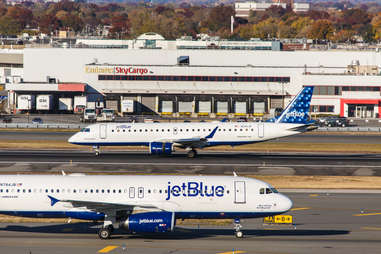 JetBlue
All change and cancellation fees for new flight bookings between March 10 and April 30, 2020 for travel through October 24, 2020 will be waived. However, you may have to pay differences in airfare. You will receive a credit for the sum of your flight plus taxes and fees that's valid for up to one year.
Qantas
Qantas has released a coronavirus change fee waiver form that is "proactively focusing on customers who are affected up to May 24, 2020." The waiver is primarily applies to people traveling between Australia and mainland China and there are a few conditions, so go to this page for the most up-to-date information.
Qatar
In light of public concern, Qatar Airways is providing flexibility for travelers. All flights booked prior to June 30, 2020 will be eligible for free change and exchanges up to three days in advance of departure.
Southwest
Southwest Airlines doesn't normally charge a change or cancellation fee. As long as you cancel or change your flight at least 10 minutes before the departure time, you can use the funds to pay for a future flight. The value of the flight is valid for up a year after the initial purchase date, according to the airline's website.
Additionally, the airline stated: "Southwest does not serve Europe or Asia and, at this time, there are no travel restrictions to any of the locations we serve. We have not suspended any scheduled flights or routes due to the coronavirus (COVID-19). Of course, Southwest will continue to closely monitor the situation, making any adjustments to our operations, as necessary or required."
United Airlines
United issued the following change fee waiver: "For tickets issued March 3 through March 31, 2020, customers will be permitted to change free of charge to a flight of equal or lesser value up to 12 months from the original ticket issue date. If the new flight is priced higher, the customer may change for no fee but must pay the fare difference. If the customer decides to cancel their flight, they can retain the value of the ticket to be applied to a new ticket without fee for travel up to 12 months from the original ticket issue date."
The airline posted a notice with all the details on its site.
Virgin Atlantic
In response to travel concerns due to coronavirus, Virgin introduced a relaxed policy that allows you to change your flight without a fee if you're set to travel before April 30, 2020 as well as for new bookings made after March 4 for travel through September 30, 2020. The airline's site has all the details on how the new policy works.
Sign up here for our daily Thrillist email and subscribe here for our YouTube channel to get your fix of the best in food/drink/fun.
Megan Schaltegger and Ruby Anderson are news writers at Thrillist.