The Airports and Airlines Most Prone to Holiday Flight Delays
A new report based on federal data shows where holiday travel tends to hurt hardest.
We've already been told that there will be a historic turnout of travelers this holiday season, with travel forecasts from AAA and TSA predicting that roads and airports alike will be seeing millions of people traveling to get home to families for Thanksgiving. If you're flying, that means you'll need to anticipate an increased likelihood of delays and other headaches.
Upgraded Points wants to help us all be as prepared as possible, and has given travelers a leg up in the planning game with updated projections on which US airports and airlines are most likely to experience flight delays this holiday season.
"We're always looking to help travelers during the hectic holidays," said Keri Stooksbury, editor-in-chief of Upgraded Points, in a statement. "Understanding which airports and airlines have historically experienced more delays can help you anticipate travel hiccups and increase your overall holiday happiness."
The study used data from the Department of Transportation data gathered during the winter holiday travel seasons between 2014 and 2022 to determine which airports had the most frequent holiday travel delays across both departures and arrivals. These were the top five airports for holiday departure delays in the US, along with the percentage of holiday departures that were delayed over the period considered:
1. El Paso International Airport (ELP) - 32.78%
2. Luis Muñoz Marín International Airport (SJU) - 30.67%
3. Albuquerque International Sunport (ABQ) - 30.56%
4. San Antonio International Airport (SAT) - 30.33%
5. William P. Hobby Airport (HOU) - 30.22%
These were the top five airports with the most frequent arrival delays during the holiday travel season:
1. Chicago Midway International Airport (MDW) - 30.67%
2. Dallas Love Field (DAL) - 30.22%
3. Denver International Airport (DEN) - 29.44%
4. William P. Hobby Airport (HOU) and Newark Liberty International Airport (EWR) – tied at 29.44%
5. Bozeman Yellowstone International (BZN) - 29.33%
The airports with the fewest numbers of delays for arrivals and departures during the holidays are Lihue Airport, Charlotte Douglas Airport, Hartsfield-Jackson International Airport, and Piedmont Triad International Airport.
Check out the complete rankings in the chart below.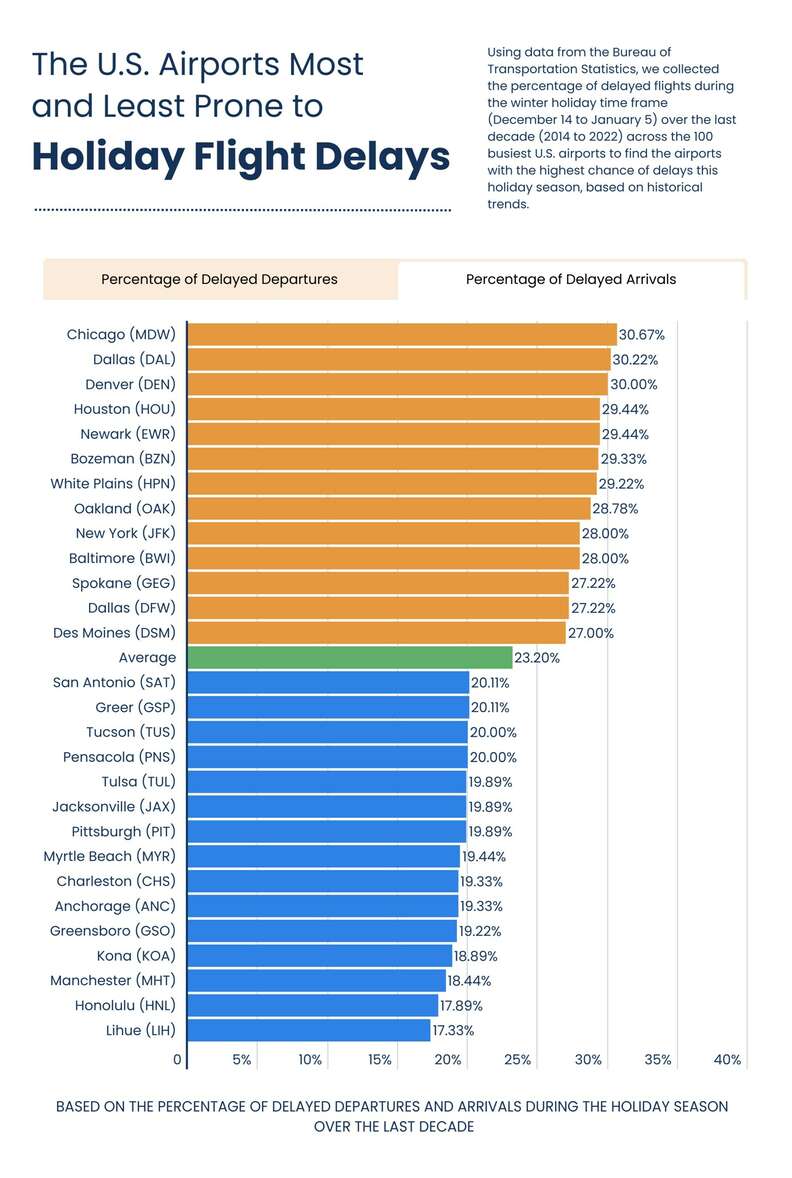 When it comes to airlines, the lower-cost carriers seem to be most affected with delays during the holiday travel season. See the five most frequently delayed airlines, along with the percentage of holiday flights that were delayed, below.
1. Frontier Airlines: 31.9%
2. Southwest Airlines: 31.8%
3. JetBlue: 30.8%
4. Allegiant Air: 29.2%
5. Spirit Airlines: 28.1%
Check out the complete ranking of airlines below.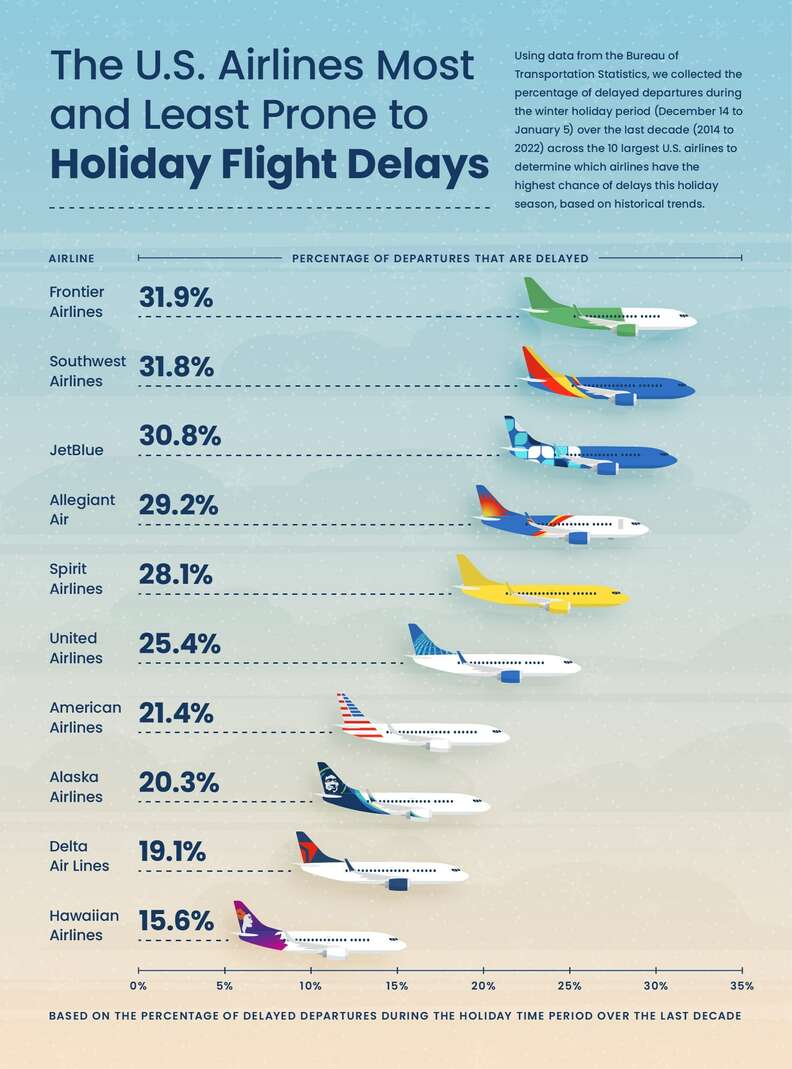 Opheli Garcia Lawler is a Staff Writer on the News team at Thrillist. She holds a bachelor's and master's degree in Journalism from NYU's Arthur L. Carter Journalism Institute. She's worked in digital media for seven years, and before working at Thrillist, she wrote for Mic, The Cut, The Fader, Vice, and other publications. Follow her on Twitter @opheligarcia and Instagram @opheligarcia.