This Airline's Huge 2-Day Sale Has Tickets to Hawaii for Under $100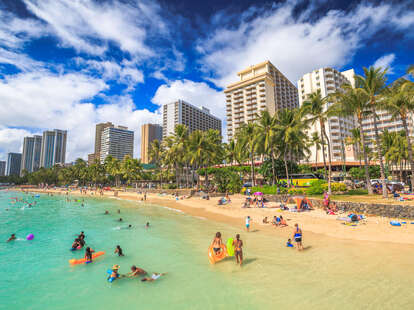 Kuhio Beach|Benny Marty/Shutterstock
From the pretty pink ashes of February rises the lethargic phoenix of March. He stays in on weekends, drinks a bit too much fridge beer, and gets holy Filet-O-Fish delivered to his door. You see, the phoenix often forgets that it can fly -- even to Hawaii -- and needs to be reminded of deals like Alaska Airlines' recently sale, with flights from California to Hawaii for under $100.
Phoenix, hun, it's been a week since you've washed your feathers. It's time to clean yourself up, get on Alaska's website, and book a flight to the islands of Aloha before the deal expires on March 5, at 11:59pm PT.
FYI, you can only fly on Tuesdays and Wednesdays between April 21 and May 20, 2020, according to the sale's fine print. You can find all the deals on Alaska's website, but here are some sample routes, all of which start at $99.
Los Angeles - Maui
San Diego - Kauai/Kona
San Jose - Kona/Honolulu/Maui/Kauai
One more thing to note: These low prices are "saver" fares, so you won't be able to choose your seat or board first. However, the discounted ticket still allows you to bring a regular-sized carry-on suitcase without paying an extra fee, making it a deal worth rising from your takeout trashes for.
Sign up here for our daily Thrillist email and subscribe here for our YouTube channel to get your fix of the best in food/drink/fun.