Everywhere You Can Get Cheap Alcohol Delivery Right Now
Proper social distancing requires a steady stream of alcohol deliveries. These options will save you money.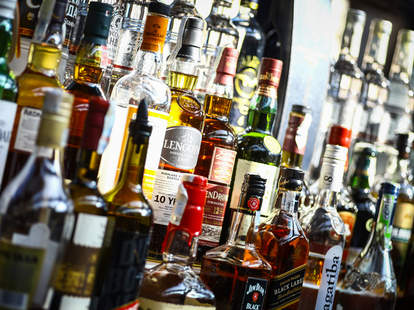 Now that you're practicing good social distancing, you're likely finding yourself at home a lot more than usual -- dare we say more than you'd like. And even though your favorite bars and restaurants are closing out of precaution, there's a good chance your desire for a cold beer or the perfect old fashioned hasn't abated even a little. But there's hope.
Delivery services -- specifically, their vast delivery fleets -- are making the situation a lot easier by bringing hot pizzas, groceries, and the oh-so-necessary bourbon up to your door. Though, if you're like me, you're more familiar with the best restaurants with delivery in the neighborhood than you are with how you get a nice bottle of gin brought to the door.
Fortunately, we can help rectify that. Many services are offering discounts and free alcohol delivery right now. Here are all the places where you can get a deal on that booze re-stock. Just be sure to tip generously, because it's not easy to be out there doing deliveries right now.
Deals on Alcohol Delivery
Hella Cocktail Co.
The deal:
Take 20% off Hella Cocktail drinks when you buy on Amazon. That excludes bitters and soda, which are 15% off with the code "15SPARKLING."
When
: November 27-30
Mr. Black Coffee Liqueur
The deal: If you sign up for the Mr. Black newsletter, you can get the Holy Trinity—the original Mr Black Coffee Liqueur and its two single-origin expressions—for $99.
When: November 27-30
Usual Wines
The deal: You're going to be able to trim 21% off any order of at least 12 glasses. Though, that doesn't include subscriptions.
When: Through November 30
The Whisky Dealer
The deal: You can get free shipping on every order from the online whiskey store that offers access to rare and limited releases. You can also take 20% off orders of at least $250.
When: November 30
Olive Garden
The deal: The pasta chain is now offering alcohol delivery with $15 bottles of wine, $10 six-packs, and $3 White Claws. You have to order food to get alcohol, and the deal is only available where local laws permit.
When: Ongoing
goPuff
The deal: As long as you place an order for at least $10 through the convenience store delivery app, you'll get $5 off your first two orders. (Though, it's worth noting that discounts on alcohol and the availability of alcohol can change some from state to state.) Just use the code "restock10."
When: Ongoing
Hornitos Tequila
The deal: Order Hornitos through Dizly to get $5 off your order with the code "HORNITOS5." Margaritas incoming. The deal is only available for new Drizly customers.
When: Throughout 2020
Flaviar
The deal: The spirits subscription service is lifting its waitlist so anyone can now join. It's all still offering free monthly shipping and has opened its "spirits school" streams to non-members.
When: Ongoing
Bev
The deal: The LA-based wine company is offering free delivery whether you order online or use its text-to-order service in Los Angeles county.
When: Ongoing
Rooftop Reds
The deal: The wine delivery service is now sending wine out in 38 states. Delivery is free, and you can get 10% off an order of at least $100 or 25% off an order of at least $200.
When: Ongoing
Usual Wines
The deal: Get free shipping on an order of 12 or more bottles. That's in addition to the discounted prices you're already getting.
When: Ongoing
Lieb Cellars
The deal: Everyone gets 20% off orders with the code "FNF" online, and there's also free shipping on any order over $50.
When: Ongoing
Big Cork Vineyards
The deal: Order at least six bottles of wine and you'll get free shipping. Plus, the winery is hosting tasting experiences on Zoom if you're looking for something to do while you nurse that glass of wine. They're happening every Wednesday at 7:30pm ET.
When: Ongoing
Besa mi Vino
The deal: Take 20% off any order of the canned wine with the code "BESAFRIENDS."
When: Ongoing
Bedell Cellars
The deal: Get 50% off spring wines and free shipping on online orders over $150.
When: Ongoing
Courtesy of Yard House
Eddie V's
The deal: Free delivery is available, and you can get champagne and wine with your order.
When: Ongoing
Smashburger
The deal: It's not delivery, but Smashburger has an impressive pickup offer. You can get $2 beers for takeout in Arizona, California, Colorado, Idaho, Illinois, Kentucky, Minnesota, New York, Oklahoma, Texas, and Virginia.
When: Ongoing
BOMANI Cold Buzz
The deal: The hard coffee brand is offering $3 off shipping when you order six cases or 50% off shipping when you order 12 cases.
When: Ongoing
Regatta Craft Mixers
The deal: Get free shipping and feel good about it. Regatta will donate 15% of all online orders to the USBG Bartender Emergency Relief Program.
When: Ongoing
The Vice Wine
The deal: Grab a "Napa Delivered" case of 12 wines that give a taste of what the region has to offer. The full case costs $300 and comes with free shipping.
When: Ongoing
Photo courtesy of Chili's
Deals on Alcohol To-Go
Chili's
The deal:
December's $5 Marg of the Month is the Merry Berry 'Rita, which features Lunazul Blanco Tequila, Cointreau, Monin Blackberry Syrup, strawberry puree, and fresh sour. You can even get it to-go where that's allowed.
When:
Through December 31
Local Deals on Alcohol Delivery
Acker Wines - New York City, New York
The deal:
Get free wine delivery in Manhattan and the Hamptons.
When:
Ongoing
Cellador Ales - Los Angeles, California
The deal: You can, of course, get a to-go order, but you can also get free delivery within 20 miles on an order over $75.
When: Ongoing
EastLake Craft Brewery - Minneapolis, Minnesota
The deal: In a limited area around the brewery, you can get free crowler delivery.
When: Ongoing
Modist Brewing - Minneapolis, Minnesota
The deal: The North Loop brewery is launching local delivery on Friday, March 26.
When: Ongoing
Ogopogo Brewing - San Gabriel, California
The deal: The taproom is fulfilling to-go orders, but you can also get free delivery within 15 miles of the taproom when you order via its website.
When: Ongoing
TapRm - New York City, New York
The deal: The minimum order for free shipping has been reduced from $50 to $25. It's also offering contactless delivery.
When: Ongoing
Thorn Brewing - San Diego, California
The deal: The brewery is offering delivery. Place orders via email, pay with credit card only over the phone, and get delicious beer on your doorstep. All the details are in this Instagram post.
When: Ongoing
More Alcohol Delivery Deals?
Did we miss some offers? Let us know about them at news@thrillist.com with "Alcohol Delivery Deals" in the subject line, and we might include it here.
Want More Free Food?
Here's our huuuuuuuge running list of all the
free food
you can get right now, as well as the
best pizza deals
,
reward programs
,
birthday freebies
,
gift card offers
,
deals on food for kids
,
food delivery offers
, and
alcohol delivery deals
you'll find. If you want a little more than, say a free taco, we also have you covered with a long list of
meals you can get at fast food chains under $5
. You're welcome.
Additionally, we've put together a list of places offering
free food to healthcare workers and first responders
during the COVID-19 outbreak.
Sign up here for our daily Thrillist email and subscribe here for our YouTube channel to get your fix of the best in food/drink/fun.