Why Cook for Your Holiday Party? That's What Aldi Is For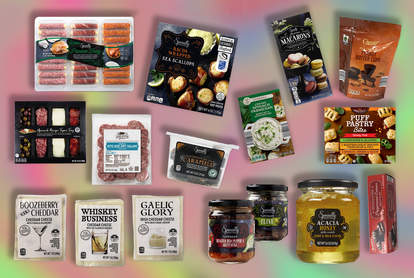 Let me tell you about one of the worst holiday parties I ever went to. There was no food. Nothing! No food except for this one wheel of unremarkable gouda I know for a fact the host had just picked up on sale at the store down the street because I'd just seen piles of it there on my way over. That and some really dumb crackers. And let me tell you, these were people who could afford to do better. People with enough money for a multiple-bedroom apartment in the West Village of Manhattan. They had a bathroom just for the cat's house-sized kitty litter box, OK?
Anyway, it made me mad because I was hungry. And it made me mad because back then I was a penniless artist who would labor for hours in my tiny kitchen and overspend my wee budget to turn out my own fancy parties, like I was Princess Margaret and her entire staff all rolled into one over-ambitious weirdo.
But look, these are not the only two alternatives if you're hosting a holiday party. You don't have to be the jerk with that one block of mediocre gouda. Nor do you have to go all type-A in the kitchen trying to make All of the Magic Happen from scratch.
It takes very little skill and not that much money, either, to pull off a grown up holiday party you can be proud of. A party where people pick up bites here and they and say things like, "OMG, these are so yummy, where did you get them? Please, I must know."
And the answer is, you got everything at Aldi. I've got your party shopping list right here. Now. When you see this list, it still adds up to quite a bit ($72.55 before drinks), but it's under $100. You could totally scale it back and get just a couple things from each group, and you'll still come close-ish to pulling off your Princess Margaret act.
Danna Windsor/Thrillist
Cheese and charcuterie
-Emporium Selection Alcohol Infused Cheddars Assorted Varieties  $3.99 
-Park Street Deli Spanish Tapas Tray $9.99 
- Specially Selected Seeded Crisps $2.99 
- Specially Selected Acacia Honey with Honeycomb, $6.29 
- Specially Selected Tapenade - olive or red pepper artichoke, $2.49 
- Specially Selected Panino Tray, $11.93 
- Appleton Farms Bite Size Salami - Original or Spicy, $3.49 
- Happy Farms Preferred Brie Cheese Round, $2.99 
Total: $44.16
 
Here is the easiest party cheese rule you'll ever need, and it will change your life: you can totally get away with setting out only one cheese as long as it's a soft, gooey, cream-based cheese like brie. Leave it out at room temperature to let it soften, stick a knife in it (so no one worries about being the Very First Cheese Disruptor), and you're golden.
 
You'll want some crackers or flatbreads to go with it, and maybe some dips and some meats. If you're feeling fancy AF, add that honeycomb (available starting Dec. 18) because it sure looks cool. Think of it as spending six bucks on a holiday decoration you can eat!
Danna Windsor/Thrillist
Hot apps
- Specially Selected Bacon-Wrapped Scallops, $6.99
- Appetito's Puff Pastry Bites $5.95
-Stonemill Warm Dip Mixes – Creamy Spinach, Cheddar and Bacon or Spicy Chipotle Cheddar, $1.69 
Total: $14.63
 
Here's your new rule for hot apps: they're for the people who show up at the beginning of the party. Early birds get the bacon-wrapped scallops, all right? Just be careful not to overcook those little darlings. 
 
The dips are not huge, but since they're under $2 you could easily get more than one. Don't you dare set out baby carrots for them, though. The people came to party, not to meet their daily recommended nutrition requirements. Plus, baby carrots make Baby Jesus cry. Cut up a baguette and/or put out bread sticks and more crackers.
Danna Windsor/Thrillist
Sweet treats
- Specially Selected Macarons, $4.99 
- Benton's Chocolate Covered Peppermint Cremes, $2.99 
- Choceur Fair Trade Peanut Butter Cups, $2.79 
- Specially Selected Dark Chocolate Covered Sea Salt Caramels, $2.99
Total: $13.76
 
For some baffling reason, this is often the most neglected party food group. Don't skip dessert -- it's so easy to buy. I've tried all of these treats, and out of the bunch my favorite by far is the chocolate covered peppermint cremes. So if you get only one thing from this list, get those. In fact, if you're throwing a party and want to serve only one item I'd say with the cookies. Think about it, which would you rather have, sad gouda or chocolate-peppermint cookies? There you go. Boom.
 
But wait, what about the booze?
A Big Bottle of Booze
Giotti Prosecco Extra Dry 3L | $49.99
William Wright Cabernet Sauvignon 3L | $37.99
 
Just for shits and giggles, the latter literally, I recommend getting one of these giant-sized 3L bottles of bubbly (while supplies last). Big bottles of booze are comical and by the way, there's a lot of liquid in there. Hopefully, you're friends with the kinds of people who bring bottles and cans and what have you with them, so this is more of a statement piece.
 
And there you go. Enjoy being a perfectly balanced and gracious host where people enjoy themselves in the holiday spirit.
Sign up here for our daily Thrillist email, get Eatmail for more food coverage, and subscribe here for our YouTube channel to get your fix of the best in food/drink/fun.