You may have fallen down a figurative rabbit hole a time or two, but now you can join the Alice in Wonderland underworld in an immersive cocktail experience inspired by the Lewis Carroll classic itself. The pop-up bar, appropriately dubbed The Alice, has made its way city to city—from Denver and San Francisco to Sydney, Australia—and is now arriving in New York City to bring a little boozy magic to the Big Apple.
Moving into Upper West Side restaurant and event space Pekarna NYC, The Alice brings you into a whimsical fairytale land with "enchanted" teapot cocktails and "eat me" cakes, the latter of which won't cause the same side effects Alice experienced in the story. We promise.
Hosted by Explore Hidden, the pop-up is kicking off September 23 with two 90-minute evening time slots each day. Your $50 ticket will get you two "bespoke Wonderland" cocktails, that "eat me" cake, and more.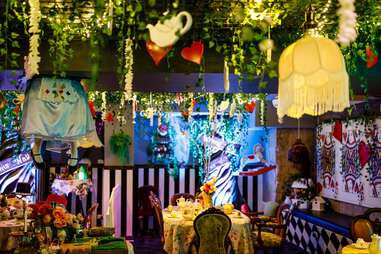 "Explore Hidden is about creating unique and immersive events and 'Alice in Wonderland' happens to fit in really well with what we do! It is a brand that is known globally and loved by many so it made sense!" a representative for Explore Hidden told Travel & Leisure. "Also, we love to create events that are extremely visually aesthetic and the Alice garden is definitely that!"
According to the outlet, The Alice is planned for an eight-week run in NYC but could get extended even longer. It's also heading to nine more cities in 2022.
Megan Schaltegger is a staff writer at Thrillist.