There's not much to argue. The northern lights are a quintessential bucket list item. Off the Map Travel has literally made a business of taking tourists to the colorful display in exciting ways. But if you're gearing a trip around seeing the aurora borealis, then this is a damn fine way to do it. 
Off the Map recently began offering an "All Day Aurora" guided tour in Svalbard, Norway. As the name implies, there's the potential to see the northern lights at any time of day, the entire time you're there. It's a thrilling opportunity because anyone who has taken a trip to, say, Iceland to see the northern lights knows there are no guarantees. The lights might not appear. There could be cloud cover. There are a lot of things capable of standing in the way of your spectacular view.
Recommended Video
Miami: The Ultimate Local's Guide
The new tour increases your chances by heading far north, since the further north you are, the higher your chances of seeing the display. Also increasing your chances, getting somewhere where the skies are dark 24 hours a day. 
"As the northern lights are a natural phenomenon, they are never guaranteed," says Jonny Cooper, Arctic travel expert and Off the Map founder. "To have the best chance of seeing them you need clear, dark skies, and you will more than double your chances of getting just that when the sun never rises."
The trip is only available from November through January when the sun doesn't peak over the horizon. You'll stay at a new luxury hotel, the Funken Lodge, on the island of Svalbard. (You know, where the Panserbjørne live in His Dark Materials series.) That's included in the steep $1,470 per person price tag, which does not include flights to this remote region.
However, the cost does include transfers, the hotel "on a B&B basis," dog sledding, a snowshoe and ice cave tour, a northern lights dinner, and a northern lights adventure on Snowcat.
"This new trip is an Aurora chaser's dream," says Cooper of travel where you could see the northern lights any time of day. "The experience of going to a destination where the sun doesn't rise makes this trip feel otherworldly like you have been transported from earth to another planet."
You're out in the cold for this trip, but you're not roughing it. The Funken Lodge has a restaurant and all the comforts you'd expect from a nice hotel. Though, if you're worried about roughing it you should remember that you do have to go outside to see the aurora. It will be snowy and cold and you'll be outside for more than 15 minutes.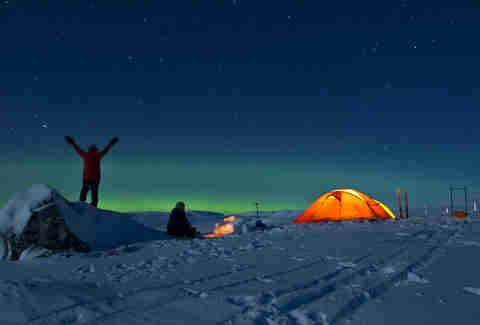 Sign up here for our daily Thrillist email and subscribe here for our YouTube channel to get your fix of the best in food/drink/fun.