Over 300 Breweries Are Making a Beer With the Exact Same Name to Help Hospitality Workers
Courtesy of Other Half Brewing Co.
Courtesy of Other Half Brewing Co.
The list of unknowns in the hospitality industry is long. Unfortunately, it doesn't look like things will get clearer soon. Nonetheless, the community around the industry has shown a lot of love in recent weeks from finding ways to support each other on a local level to larger projects like the one recently created by Brooklyn's Other Half Brewing Co.
The brewery came up with a recipe for what it calls All Together IPA, a global collaboration that has been taken up by more than 300 breweries globally. Every brewery is using the same recipe (or tiny twists on it) and selling the beer to raise money for workers and causes local to each brewery.
"Everyone is affected, whether you're a hostess, server, or hotel worker," Other Half co-founder Andrew Burman told Thrillist by phone. "We wanted to do something that was local and supported the people that were there [in the community]. We didn't want to say that you were giving to a national charity. If a small brewer needed this to keep the lights on or pay an employee for a couple of weeks longer, that's what it's for. If a homebrewer wanted to brew it just to shoot the shit with his friends and make life easier for a couple of days, that's great."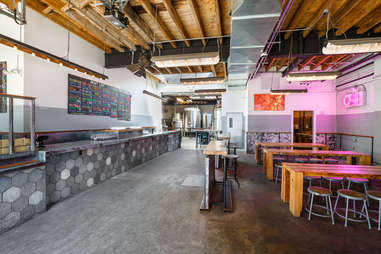 Any brewer can grab the recipe, brew it, and package it with a twist on a similar label designed by Stout Collective. Other Half just asks that "a portion of the proceeds go to supporting hospitality professionals in each brewery's own community. The rest should be donated to keeping the brewery in business to weather this storm." It was almost instantly taken up by breweries across the globe with more and more signing up still.
"We're hurting like everyone else, but even though we're hurting, we've had so much support from our community," Grant Pauly of Sheboygan's 3 Sheeps Brewing said. "It's a small way to help keep my crew busy and give back to all those who have supported us in the eight years we've been around."
The first beers will be released in around a week or so -- though each brewery is on its own timeline -- with familiar breweries across the US participating. You'll find it at Side Project in St. Louis, Monkish in Torrance, Trillium in Boston, Alvarado St. in Monterey, Modist Brewing in Minneapolis, Burial Beer Co. in Asheville, 3 Sheeps in Sheboygan, Ska in Durango, Industrial Arts in Garnerville, and many others. Though, at this point, it's expanded well beyond the US. Breweries are participating in Ireland, Canada, Russia, Argentina, Spain, Sweden, Norway, Italy, the United Kingdom, and New Zealand, among other locations.
"For us, it's less about how much money can we raise and more about how much awareness can we create," said Doug Reiser, co-founder of Asheville's Burial Beer Co. "Let's think about the people who delight you and provide you all the entertainment in your life. Certainly, being locked up in our houses with our significant others and kids for the next couple of months will make it all the more real, how much people miss that part of their life."
While your favorite bartender can't slide a beer to you right now, cracking one open that supports them from home isn't a bad way to pass the time until you can drop a tip on the bar again.
Sign up here for our daily Thrillist email and subscribe here for our YouTube channel to get your fix of the best in food/drink/fun.