Think the threat of major, damaging earthquakes is just a California thing? Well, think again... and, uh, probably grab a door frame.
A new study published Monday in Earthquake Spectra claims that nearly half of all Americans — across the country — are at risk of potentially dangerous tremors, or about double the numbers seen in previous estimates. The study, authored by scientists from the US Geological Survey, found more than 143 million Americans in the 48 contiguous states are vulnerable to such ground shaking, and that number is even higher when populations in Alaska, Hawaii, and other US territories are added. 
"Populations have grown significantly in areas prone to earthquakes, and USGS scientists have improved data and methodologies that allow for more accurate estimates of earthquake hazards and ground shaking," said William Leith, co-author of the study and senior science advisor for earthquake and geologic hazards at USGS.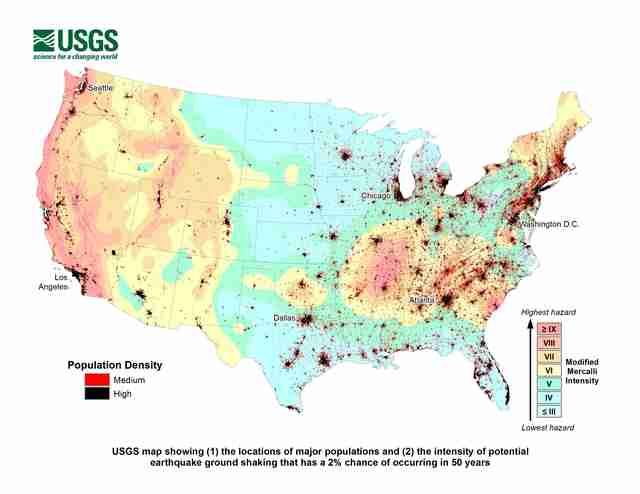 Here's what you need to know:
More than 143 million people live in areas with some risk for damaging quakes.
About 57 million people reside in areas with a moderate chance of such ground shaking.
Approximately 28 million people are in areas with a "high potential" for potentially violent earthquakes in their lifetimes.
While California clearly isn't the only state at risk for earthquakes, it tops the list of states with the highest potential for "strong ground shaking," followed by Washington, Utah, Tennessee, Oregon, South Carolina, Nevada, Arkansas, Missouri, and Illinois. "Strong ground shaking," while infrequent, means significant damage and casualties, according to the USGS. So sure, the West Coast looks like it's in the worst shape, but there's plenty of danger in states you never would have considered.
"Of particular concern is the significant amount of critical infrastructure located in high earthquake-hazard areas, ranging from private and public schools to health care facilities and fire stations," said Kishor Jaiswal, lead author of the study and a USGS research structural engineer. Good to know.
So, who's moving to North Dakota with us? Or, we can just do as Kelly Roark suggested in Volcano and, "Get into a doorframe, stick your head between your knees and kiss your ass goodbye." (Don't do that.)
Tony Merevick is Cities News Editor at Thrillist and once felt a very minor earthquake in the suburbs of Chicago. Send news tips to news@thrillist.com and follow him on Twitter @tonymerevick.