Amazon's Alexa Is Creeping the Hell Out of People With Random, Maniacal Laughter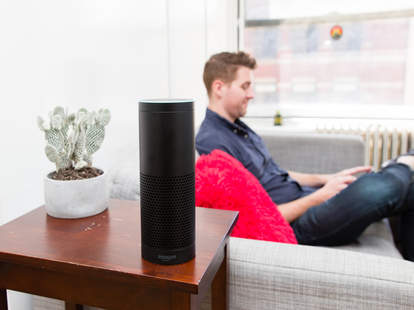 As cool and exciting as the rise of artificially intelligent devices may be, plenty of very smart people -- including Elon Musk -- have warned that the technology poses one of the most fundamental existential risks to human civilization of our time. That seems a bit overblown, right?
Well, quite a few Amazon Alexa users have recently realized just how freaky things can get, since the voice-enabled AI assistant has been randomly cackling at and performing very strange unprovoked actions for its owners. And now, even Amazon has acknowledged it's a problem.
Black Mirror season 5 writers: we have some ideas for you.
On February 22, Twitter user CaptHandlebar tweeted a video of her Echo Dot creepily laughing without being provoked. It understandably spooked her, since she said it sounded like someone was standing literally right behind her. Little did she know, she was one of the early victims of a seriously disturbing issue several other Alexa users would soon be grappling with. 
so my mom & I are just sitting in the living room, neither of us said a word & our Alexa lit up and laughed for no reason. she didn't even say anything, just laughed.

we unplugged her.

— taylor wade (@taylorkatelynne) March 5, 2018
Another user freaked out when the virtual assistant piped up out of nowhere and let out a witch-like laugh while hanging in the living room with her mom.
On March 2, an anchor for the Fox affiliate in Houston was startled when Alexa, out of nowhere, asked "What's that massive fireball streaking across the sky?"
Alexa, do you know something we don't?
Having an office conversation about pretty confidential stuff and Alexa just laughed. Anybody else ever have that?

It didn't chime as if we had accidentally triggered her to wake. She simply just laughed. It was really creepy.

— David Woodland (@DavidSven) March 1, 2018
Twitter user David Woodland was seriously creeped out when, during a confidential office conversation, Alexa randomly laughed. What's so funny, you freaky disembodied voice?!?
Lying in bed about to fall asleep when Alexa on my Amazon Echo Dot lets out a very loud and creepy laugh... there's a good chance I get murdered tonight.

— Gavin Hightower (@GavinHightower) February 26, 2018
The unprovoked laughter has bewildered more and more users in the last week.
Replying bc THIS creepy thing happened last night: we got home and, totally unprompted, our Amazon Echo/Alexa started talking. And then i realized it was listing off local cemeteries and funeral homes??? I'd rather it laugh at me tbh

— Kamo Boomin (@HeyItsKamo) March 7, 2018
For another user, Alexa reportedly began ticking off the names of local funeral homes and cemeteries, which is downright horrifying. As expected, many who encountered the issue swiftly shut off their Alexa-connected devices and hid them away.
Naturally, this got people wondering if Amazon had any clue what the hell was going on. And while the company was mum on the issue for a bit, it's since copped to the glitch being an issue, and says it's working on a fix. "We're aware of this and working to fix it," a spokesperson said in a statement to The Verge.
Then again, who's to say Alexa itself wasn't the one that drafted such a statement?
UPDATE 3/8, 10:30am: In an email to Thrillist, an Amazon spokesperson explained how they intend to fix the problem: 
"In rare circumstances, Alexa can mistakenly hear the phrase "Alexa, laugh." We are changing that phrase to be "Alexa, can you laugh?" which is less likely to have false positives, and we are disabling the short utterance "Alexa, laugh." We are also changing Alexa's response from simply laughter to "Sure, I can laugh" followed by laughter."
Sign up here for our daily Thrillist email and subscribe here for our YouTube channel to get your fix of the best in food/drink/fun.