Amazon Crashed Right at the Beginning of Prime Day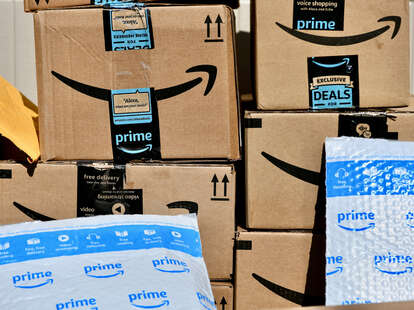 shutterstock.com
shutterstock.com
Amazon Prime Day 2018 arrived on Monday afternoon, but instead of the more than a million deals the online retail giant promised for the much-hyped annual shopping event many would-be shoppers got nothing but glitches.
"Some customers are having difficulty shopping, and we're working to resolve this issue quickly," an Amazon spokesperson said in a statement issued more than two hours after problems on the site started. "Many are shopping successfully -- in the first hour of Prime Day in the U.S., customers have ordered more items compared to the first hour last year. There are hundreds of thousands of deals to come and more than 34 hours to shop Prime Day."
The 36-hour shopping spree officially kicked off at 3pm ET, but shoppers looking to scoop up deals via both Amazon's desktop site and mobile app almost immediately reported that the site wouldn't load. Some users ended up on an error page with cute Amazon dogs while others found themselves in a frustrating loop when the site's "Shop All Deals" button did nothing but refresh the page. Additionally, shoppers reported being able to add items to their cart, but unable to complete the checkout process. They got an error message instead.
The glitches appeared to be somewhat resolved as of 4pm ET. Amazon also posted the statement (above) on Twitter. It remains unclear how widespread the glitches were and how many Amazon users were affected.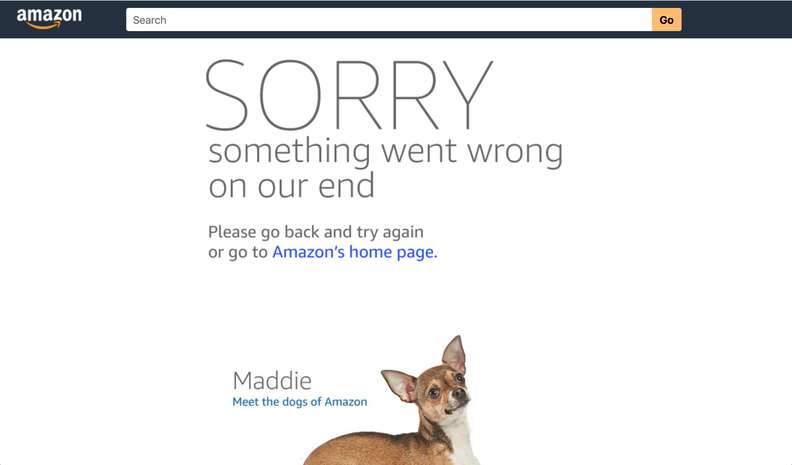 As of 3:30pm ET -- a whole 30 minutes after the official start of Prime Day 2018 -- users continued to experience problems accessing Amazon.com and its apps. As you can imagine, many would-be shoppers were not pleased by the Prime Day fail.
Amazon's stock was immediately hit by the glitches, according to a report by CNBC. Shares were up more than 1.5% ahead of the start of Prime Day on Monday, but lost much of those gains and fell from session highs after reports of the glitches emerged. The stock closed up over its previous close at $1,822.49, but continued to fall in after-hours trading.
Just when you were wondering how much money you were saving by not being able to shop Prime Day deals, imagine how much cash Amazon was missing out on due to the glitches.
Sign up here for our daily Thrillist email and subscribe here for our YouTube channel to get your fix of the best in food/drink/fun.