It's Official: Amazon Now Offers Free 2-Hour Whole Foods Grocery Deliveries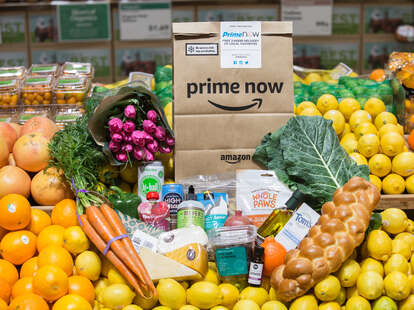 Courtesy of Whole Foods Market
Amazon's grand plan for Whole Foods has been a bit of a mystery ever since it acquired the high-end grocery chain last summer. First, it slashed prices (though many went right back up), and a couple of weeks ago, it started hawking popular gadgets from special trucks parked in store parking lots. Now, it appears to be leveraging one of its signature strengths -- quick and free delivery -- by announcing that it will now offer free 2-hour delivery of Whole Foods groceries for Prime customers via Amazon Prime Now.
On Thursday, the mega e-tailer announced that it will be rolling out free two-hour grocery delivery for Prime customers who spend at least $35 on Whole Foods items via Prime Now, beginning first in four select markets: Austin, Cincinnati, Dallas, and Virginia Beach. It also said that it plans to expand the service across the country during 2018.
For those unfamiliar with Prime Now, it's Amazon's same-day delivery service that allows Prime members to order anything from toilet paper to headphones and have them delivered in a matter of hours, either from Amazon itself or one of its partner vendors. By integrating Whole Foods into the mix, customers will now have the option to stock up on all sorts of stuff -- fresh produce, meat, seafood, locally sourced items, and more -- directly from a nearby WF location, without leaving the house.
"We're happy to bring our customers the convenience of free two-hour delivery through Prime Now and access to thousands of natural and organic groceries and locally sourced favorites," said Whole Foods co-founder and CEO John Mackey in a press release.
Much like other Prime Now transactions, you'll need to spend a minimum amount of money for your two-hour delivery to be free (in this case, $35), or you'll be charged an additional fee. Though if you need your avocados and organic ground beef lickety-split, you also have the option to select an "ultra-fast" one-hour delivery, which will set you back an extra $7.99 (on top of the minimum $35). You can order either via the Prime Now app or website. For now, the service is also only available from 8am to 10pm in the aforementioned limited markets.
No word yet on which markets are next up on the rollout schedule, but if this new initiative turns out to be successful, don't be too surprised if your weekly trip to Whole Foods is soon replaced by a quick conversation with Alexa.
Sign up here for our daily Thrillist email and subscribe here for our YouTube channel to get your fix of the best in food/drink/fun.