Amazon's Sellers Have Been Shipping Expired Food, So Check the Dates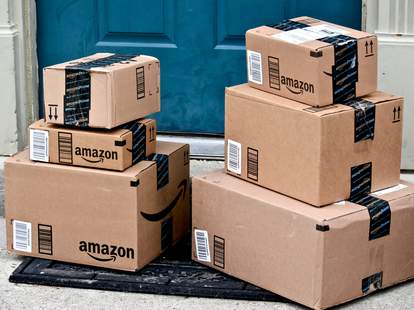 Jeramey Lende / Shutterstock.com
Yes, Amazon has its upsides. You can order anything -- from essential toiletries to a pack of 25 cowboy boy hats -- and it'll arrive at your doorstep in two days or less. But there are plenty of downsides to shopping via the tech and retail giant, and the latest one isn't great: expired food. 
In a new report, Amazon has been accused of shipping food from its sellers that's long-expired. According to CNBC, customers have complained of spoiled beef jerky, granola bars, coffee creamer, baby formula, and more. Here's the real kicker though: the company can't get in trouble for it. 
Amazon has a loophole that, essentially, leaves it blameless, the business outlet reported. The company has little oversight when it comes to third party sellers -- it's not checking the dates. That's a real problem considering 40% of sellers on its "100 best-selling products" section has received complaints about expirations. Amazon does have a policy that requires these sellers to keep them informed on dates and necessitates that everything must have a 90-day shelf life from purchase, but it doesn't really seem like the sellers are following this rule. 
"There's no indication of how well that policy is enforced," Director of Food Policy at Consumer Federation of America, Thomas Gremillion, told CNBC. "Some sellers could be making a business decision to sell expired products and let Amazon catch some of it and toss it out and persist."
A spokesperson for Amazon said products are removed and accounts are suspended when a vendors do not comply with policies. "We work hard to make sure customers receive high-quality products when they order from our store," the rep said. "If customers have concerns about items they've purchased, we encourage them to contact our Customer Service directly and work with us so we can investigate and take appropriate action."
I don't know, guys, keep buying exotic salts off Amazon if that's your vibe, but maybe do a double check before... consuming it. I might stick to bulk cowboy hat orders until it's resolved.
Sign up here for our daily Thrillist email and subscribe here for our YouTube channel to get your fix of the best in food/drink/fun.
Megan Schaltegger is a staff writer at Thrillist. Follow her @MegSchaltegger.