It's no secret that Amazon has its sights set on taking over the world. It's already successfully wrapped its ever-growing tentacles around the publishing, e-commerce, web-hosting, smart home products, and grocery industries, among many others. Now, it looks like the company is coming for the Blue Aprons and Plateds of the world, with the news that it's started selling its own pre-packaged meal kits. 
All hail e-lord Amazon!
Recommended Video
This Restaurant Gives Brunch a Punjabi Twist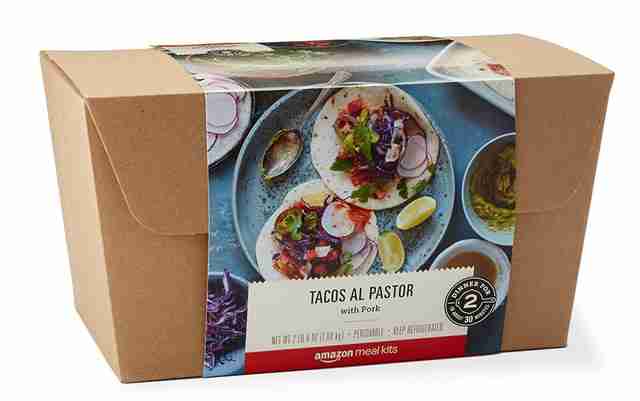 Earlier this week there were rumors that Amazon was hatching plans to get in on the lucrative meal kit industry after several outlets reported it had filed a trademark application for such a service, complete with an appropriate tagline: "We do the prep. You be the chef." However, it appears the company's actually been quietly testing it for a while.
The intel comes from Seattle-based Amazon Fresh customer Josh Chadd, who told the site GeekWire that he started seeing the Amazon Meal Kits showing up in his search results last week. According to reviews on the site, it seems that a selection of them have been available since late June -- but not for everyone. Evidently, only a select sample of Amazon Fresh users have been seeing (and are able to see) the Amazon-branded Meal Kits in their results. The company's been selling third party meal kits on Amazon Fresh for a while now, with offerings from services like Tyson Tastemakers and Martha & Marley Spoon (though these should not be confused with Amazon's nascent proprietary Meal Kit Service).
Chadd told GeekWire that he prepared the Amazon Steak Au Poivre kit, which comes with Parmesan Fries and Snap Peas, on Sunday, and enjoyed it. "Overall the finished meal was a 9 out of 10 for any meal I've made at home even with my own ingredients," he said.
For those Fresh users able to see the offerings at this time, there are currently 16 other meals to pick from, including dishes like Roast Chicken with Tarragon-Mushroom Sauce, Veggie Burger with Harissa Aioli & Smoked Eggplant, and Wagyu Beef Burger with Bacon Jam & Sweet Potato Fries. Prices range between $14.99 and $18.99 per meal, and similar to other services, each kit comes packed in a box with pre-packaged ingredients and recipe cards to walk you through the whole process, which it claims takes just half an hour from box to table.
In the wake of its multi-billion-dollar acquisition of Whole Foods, it's not surprising the Amazon would be staging a service to rival all of the many, many other meal kit providers (e,g, Blue Apron, Plated, Sun Basket, Hello Fresh, Purple Carrot, etc.) that have popped up in recent years. And considering its vast network of existing distribution centers around the country and internationally -- and the ones it'll presumably inherit with the Whole Foods deal -- it's tough not to see the company's incredible strategic advantage here. 
It's unclear when Amazon plans to expand its meal kit availability, but we've reached out to the company for comment and will update if we hear back.
Sign up here for our daily Thrillist email and subscribe here for our YouTube channel to get your fix of the best in food/drink/fun.