Amazon Is Now Selling Gadgets in Whole Foods Parking Lots
Amazon's takeover of Whole Foods last year was met with lots of speculation about how the mega e-tailer might change or reinvent the high-end grocery store chain. At first, it seemed like the strategy was to slash prices to woo new customers (which they did and also then didn't do), and now it appears the company is testing out a new retail concept that would allow shoppers to buy discounted gadgets and other items direct from Amazon right in Whole Foods... parking lots. Seriously.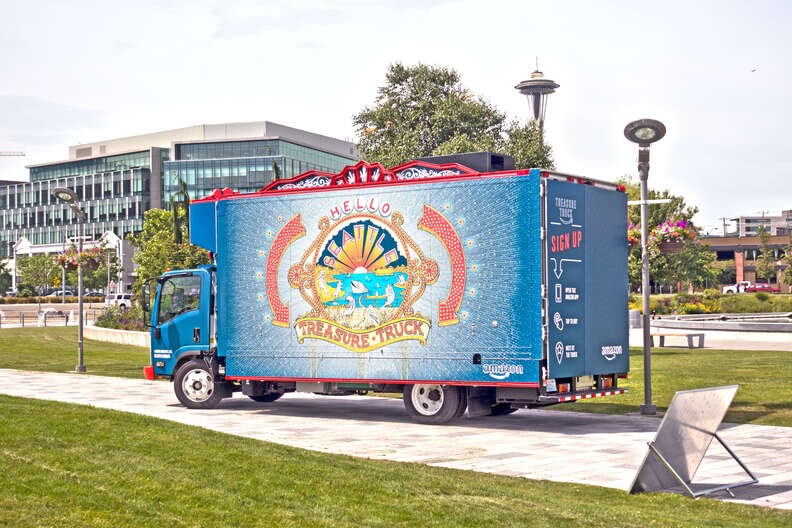 On Tuesday, the company announced that it will begin deploying its "Treasure Trucks" to select Whole Foods locations across the country, and stocking them with different items each day that customers can purchase via the Amazon app. Specifically, they'll be kicking things off by selling Instant Pot Duo Mini 3 Qt. 7-in-1 Multi-Use Programmable Pressure Cookers, a hugely popular counter appliance that ended up being the best-selling product during last year's Prime Day.
If you're not familiar with Treasure Trucks, they're essentially mobile Amazon pop-up shops the company's been quite literally rolling out across the country for the past couple years. Each truck is restocked regularly with a "new, trending, local, or delicious" item, and customers can sign up to be notified with a text whenever a new item is available near them, and if they want to buy it they can do so in the app and simply pick it up wherever the truck's parked that day.
Besides making it easier for existing Whole Foods customers to get a taste of the convenient near-instant gratification Amazon's built its reputation on, the company's also adding a sweet little bonus: anyone who purchases an Instant Pot from a Treasure Truck parked in front of Whole Foods (and presumably whatever other items follow), will get a coupon for $10 off any $40 Whole Foods purchase.
Amazon is certainly not afraid to give people weird new ways to buy stuff. After all, it just opened a confusingcashier-less convenience store last week. And while there's no word on whether the Treasure Trucks at Whole Foods are a temporary or permanent deal, it's safe to assume the company will keep on trying to woo new customers -- even in grocery store parking lots -- if it thinks it might work.
h/tEngadget
Sign up here for our daily Thrillist email and subscribe here for our YouTube channel to get your fix of the best in food/drink/fun.