American Airlines Just Changed Its Voluntary Bumping Program & Not for the Better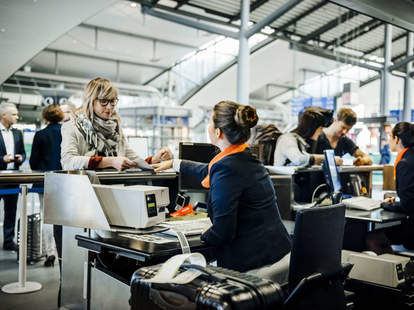 American Airlines has historically offered the same generous payout for all travelers who are voluntarily bumped from overbooked flights. For anyone willing and able to weather the inconvenience, it's a way to pocket some extra cash and maybe invest it in an additional vacay. But now, the company is changing its policy -- and, unfortunately, not for the better.
Under the new policy, passengers will get the exact compensation rate they've volunteered for, which means, even if someone else scores more cash for getting bumped from the same flight, you're only getting what you offered, Travel & Leisure reports.
The Points Guy outlines the previous plan pretty well: "Say four passengers volunteer to be bumped -- volunteering at $150, $200, $250 and $300 respectively -- and the flight ends up being oversold by three passengers. Under the prior policy, the passengers who volunteered at $150-$250 would all have the option to be bumped at $250. If one of those passengers declines, the offer would increase to $300 each for the remaining three passengers." 
That's no longer the case and we have the airline's mobile app to thank. American introduced a new feature that allows passengers to silently volunteer for a bump from their flights -- opposed to gate agents announcing the need via loudspeaker. In short, there's no room for negotiation based on other rates, because you won't know. 
Instead, agents will "have individual conversations with customers to discuss the arranged protect and voucher amounts." So while you'll still get paid, you're likely getting paid much less. And even that is subject to change. According to the outlet, American Airlines is hoping to eventually eliminate compensation all together, simply rerouting trips instead. Not cool, guys. Not cool at all.
h/t Travel & Leisure
Sign up here for our daily Thrillist email and subscribe here for our YouTube channel to get your fix of the best in food/drink/fun.
Megan Schaltegger is a staff writer at Thrillist. Follow her @MegSchaltegger.