Pilot Turns Plane Around After Passenger Fakes Illness for a Seat Upgrade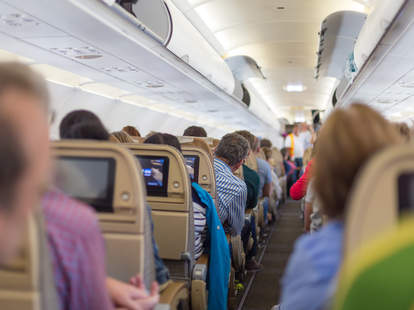 My first class flight experience is limited in that I've upgraded once (for $30 and with the knowledge I'd get my money's worth in free mimosas). I won't lie, it's a sweet set-up, but I've also never considered scamming an airline for a better seat. Turns out the same can't be said for everyone. 
An American Eagle flight bound for Miami had to turn back to Pensacola, Florida this week after an unhappy coach passenger faked a medical emergency in hopes of scoring a seat upgrade, Travel & Leisure reports. Instead of accommodating the woman in first class, the flight crew turned the plane around altogether. Flight 3508 landed at 6:30am on November 29 and was grounded for over an hour due to the incident. 
"Once airborne, she told them she wanted a bigger seat. The pilot declared an emergency... once they got on the ground, she made it clear that she was faking the medical condition to get a bigger seat," Pensacola Police Department Public Information Officer Mike Wood told NBC Miami. 
The passenger refused to exit the plane, resulting in an entire cabin evacuation, according to the local news outlet.
"All passengers deplaned normally at the gate through the main boarding door and onto the jet bridge," a spokesperson for American Airlines said in a statement. "The passenger was subsequently removed by law enforcement and medical personnel, and the flight took off again at 7:41am."
According to NBC, the woman was taken into custody under Florida's Baker Act. "Because of things she said, she was taken in custody. Criminal charges have not been filed yet, but there may be some charges in the future."
First class is nice and all, but not worth going to jail for nice.
Sign up here for our daily Thrillist email and subscribe here for our YouTube channel to get your fix of the best in food/drink/fun.
Megan Schaltegger is a staff writer at Thrillist. Follow her @MegSchaltegger.