Amex Card Members Can Snag Ultra Exclusive Reservations & Free Cash Next Week
This is the most substantial Resy statement credit offer ever and it includes over 200 restaurants.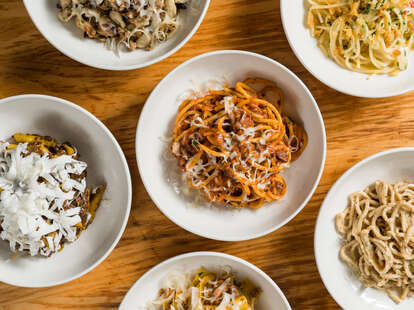 L'Artusi | Courtesy of Simon Leung
There's no such thing as a free lunch, or at least that's how the saying goes, but there is such a thing as cash back on said lunch. American Express is gearing up for its annual Member Week—which runs October 10 through October 14—and is promising exclusive perks totaling nearly $300 in statement credits.
ICYMI, Amex has teamed up with trusty online reservation service Resy to offer select cardholders limited restaurant connections (Resy, if you're reading this, please, I beg of you, hook me up with Global Dining Access). To expand on that partnership, the pair is giving members the chance to book ultra-exclusive reservations at 20 buzzy haunts across the US, including NYC's L'artusi, Jaguar Sun in Miami, and LA-based Elephante. You can book on October 11 for dinner November 1.
Now you're probably wondering about that money I promised you. Dining at select Resy restaurants—there's about 200 in total coast to coast—will get you a $25 statement credit for spending $75 or more in a single purchase by December 8, 2022. That all starts with Member Week on October 10.
"This Member Week, we're curating five days of epic experiences and offers across areas our Card Members are passionate about," American Express Chief Marketing Officer Elizabeth Rutledge said in a press release. "We've partnered with amazing brands and entertainers to bring Card Members a range of exciting opportunities that showcase why American Express is the ultimate lifestyle companion."
You can also get statement credits back on shopping and wellness, but the incentives extend beyond even that. Next week, eligible card members can snag access to $10 tickets to Jack Harlow's hometown concert in Louisville, exclusive presale for Ed Sheeran's latest tour, and even 2023 Coachella passes.
At 9 am Monday, October 10, you can head over to the Member Week site, where you'll find the special offers.