American Express Debuts NYC Rooftop Pickleball Court & Tennis Lounge for U.S. Open
Amex is teaming up with drop-in tennis club Break the Love to give tennis fans more court access.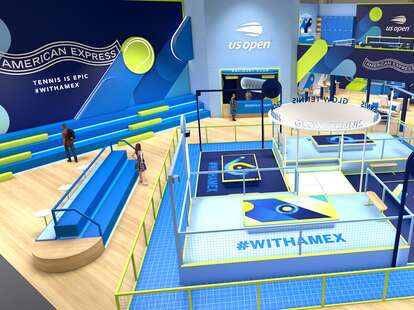 Courtesy of American Express
While we're still a few weeks out from the US Open—and Serena Williams' final bow ahead of retirement—American Express is gearing up for the annual tournament with a Soho pop-up of its own.
As the tennis world's biggest names descend on New York City, Amex is teaming up with Break the Love for a rooftop pickleball court and US Open-themed lounge at Showfields that will mirror the fan experience at the tournament itself.
As part of the partnership, the drop-in tennis club and credit company are creating an immersive experience with a bookable rooftop pickleball court and ping pong tables. The Card Member Lounge, which will occupy Showfields' fourth-floor loft, will include Grey Goose Honey Deuce popsicles, US Open-inspired nail art courtesy of Chillhouse, and an American Express Pro Shop with exclusive Amex x Break the Love merch created with Wilson.
The partnership also includes an IRL element to get players out on the court. Tennis fans will get access to 10,000 court reservations across the New York City area, while card members can unlock special access to peak times using their Amex card.
"We're excited to welcome tennis fans from around the world to the US Open, and to bring some of that experience to hundreds of courts in the greater NYC area through our new partnership with Break the Love," Chief Marketing Officer at American Express Elizabeth Rutledge said in a press release. "With tennis surging in popularity, and millions of people picking up the sport for the first time, we're thrilled to work with our partners to connect new fans to the game."
The pop-up is open Saturday, August 13 and Sunday, August 14 between 12 pm and 7 pm, as well as Monday, August 15 from 12 pm through 3 pm.