Amtrak Is Giving Away Free Trips on Its Most Scenic Routes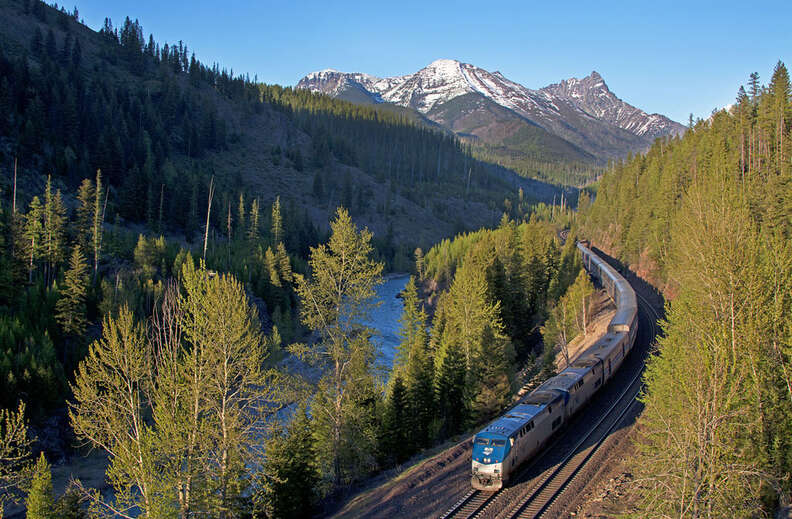 There's no question that planes are most efficient when you need to get somewhere quickly, but there will always be something charming about trekking cross-country by train. Yeah, it's slower, but it's also arguably a more comfortable and social experience, not to mention it comes with some uniquely scenic views you'd be hard-pressed to find anywhere else. Fortunately, if it's something you've been meaning to cross off the ol' bucket list, now may be the time to make it happen because Amtrak just announced it's giving away a handful of free trips on some of its most scenic long-haul routes.
For aspiring rail riders with a knack for social media creativity, Amtrak just announced a new social media residency program that will match selected candidates with free trips on some of the most scenic long-haul rail routes in America. The campaign, known as #AmtrakTakeMeThere, is currently offering applicants "from different walks of life" the chance to take part in some complimentary round-trip travel in exchange for sharing their experience on social media. And unlike other sweepstakes of this ilk, for this one they are specifically not looking for "glitzy influencers with millions of followers who quit their day job to travel the world." In other words, they're looking for average folks with a passion for train travel.
"Some of the best travel stories occur on our long-distance trains, and we are looking for travelers to share their real experiences," said Amtrak CEO Tim Griffin in a statement, perTravel & Leisure.
The trips will be awarded to eight different people, and will vary from between two and five days long, depending on the route. Each winner will be hooked up with a private sleeper car, desk and window-view seat, plus $1,000 in spending money to cover expenses along the way. Not to mention, many of these routes are on trains with special glass-topped sightseeing cars.
To throw your hat in the ring, you just how to fill out an online form by January 31 explaining a bit about yourself (with links to your various social media accounts), your social media instincts, and why you're a sucker for traveling by train. Then, a panel of judges will go through and select the people they think have the best writing, photography, and other related skills, and offer the winners a free trip.
Of course, applicants who can prove they have next-level social media chops (and, most likely, a good chunk of followers) will probably have the best shot at winning, though you never know how far a convincing argument about your love of trains, Amtrak, or seeing the country may get you.
However, even if you don't manage to snag one of the eight coveted trips, some of the incredibly scenic Amtrak routes up for grabs are actually a whole lot cheaper than you might think.

Sign up here for our daily Thrillist email and subscribe here for our YouTube channel to get your fix of the best in food/drink/fun.