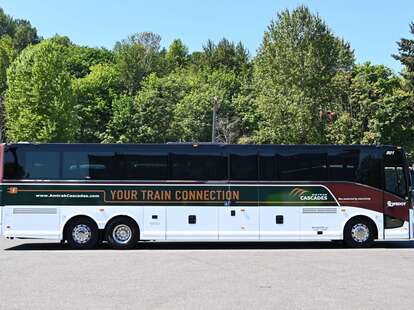 Photo courtesy of Amtrak
Photo courtesy of Amtrak
In collaboration with the Washington Department of Transportation (WSDOT), Amtrak is officially getting closer to its goal of achieving net zero greenhouse emissions by 2045.
The railway company just launched the country's first-ever electric bus service on an intercity route, namely that of the Amtrak Cascades. The new sustainable bus will be available daily, and it will provide additional connection during the mid-day period on top of the already-existing morning and evening train service between Seattle and Bellingham.
On the route from one city to the other, the bus will also make additional stops. Passengers will be able to get off at Everett and Mount Vernon, making it possible for them to connect with trains departing from those stations.
The use of the electric bus, which is a fresh novelty in Amtrak's national network, flaunts multiple sustainability achievements. On top of being able to make almost a 200-mile round trip on a single charge, it also helps significantly cut emissions. According to Amtrak, considering an ideal trip length for an electric bus, the employment of the new vehicle will save roughly 10,000 gallons of diesel fuel per year, which translates to cutting annual CO2 emissions by 109 tons.
"WSDOT is pleased to be the first in the country to offer electric bus service on an intercity route that's part of Amtrak's National Network," Washington Secretary of Transportation Roger Millar said in a statement. "Amtrak Cascades trains already operate with locomotives that meet the EPA's highest standards—reducing emissions by 86% after replacing older locomotives in 2017. Adding a bus to our fleet that is powered by clean energy further affirms our commitment to offer environmentally friendly travel options in the Pacific Northwest."
Now, if only Amtrak could score some hydrogen-powered trains. In the meantime, Amtrak is reportedly examining other routes to explore the expanded use of EVs and alternative fuels.