Amtrak Is Offering Buy-One-Get-One-Free Train Tickets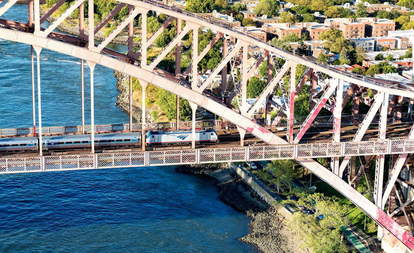 At the beginning of the summer, Amtrak launched a promotion that could land you buy-one-get-one-free (BOGO) tickets for Saturday trips along the Acela and Northeast Regional train lines. The deal ran through the end of August, but now the BOGO is back and -- best of all -- back indefinitely, the company announced on Wednesday. (Sorry if you bought your ticket during the intervening few days, I guess.)
The sale is only available along the two northeastern United States lines with a minimum of a three-day advance purchase, according to a spokesperson. Additionally, the tickets have to be in coach. However, those lines do hit major stops like Boston, New York City, Philadelphia, and Washington, DC, making this a pretty alluring deal for anyone heading north to catch the arrival of fall foliage. 
To get the BOGO tickets, use the code "C222" when booking on Amtrak's website. You'll have to buy both tickets at the same time, and you have to travel together (you can't buy one ticket to a city and use the free ticket to get yourself back; two people must be traveling together). Among other fine print details, Amtrak notes that the offer isn't valid on unreserved service on the Pennsylvanian and Keystone Service locally between Philadelphia and Harrisburg and Thruway Service.
You could wind up with two tickets for as little as $37. It's a pretty great offer for a day-trip, weekend getaway, or your shot-for-shot remake of Planes, Trains, and Automobiles.
Sign up here for our daily Thrillist email and subscribe here for our YouTube channel to get your fix of the best in food/drink/fun.