If you're looking to absorb the scenic splendor of the West Coast, then you might as well forget about renting a car. Burning rubber on the Pacific Coast Highway is fine and all, but it turns out there's a better way to chart a course through all the towering Redwoods and majestic cliffs lining the Pacific, and it involves zero stops at the gas pump.    
Amtrak's Coast Starlight, which extends from the northerly reaches of Seattle down to Los Angeles, lumbers through some of the most gorgeous landscapes this country has to offer. What's more, the idyllic journey starts at the laughable, double-digit price of $97. The Coast Starlight will whisk you through Washington, Oregon, and the most dramatic stretches of California's coastline, passing through Oregon's Cascade mountains, Mount Rainier, Puget Sound, and the San Francisco Bay. It's a 35-hour trip through 30 destinations in total, with an observation car boasting floor to ceiling windows. Want to experience a hands-down standout among America's most gorgeous train rides? Here's your chance. 
Recommended Video
Please Don't Hang Up: The Best Things to See, Eat, and Do in Seattle, WA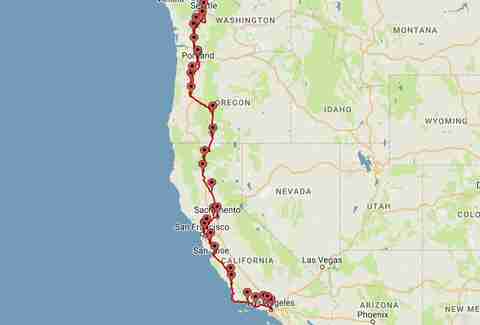 Different accommodations are available and vary by price, but relishing the lush, ocean-lined landscape is ultimately the most worthwhile investment. Coach passengers get a daily meal offered by Amtrak and "big, comfortable seats," with "plenty of legroom." For the Business Class set, there's wine and cheese tasting and free WiFi, but combing through email probably won't cross your mind while you're sipping on that complimentary cabernet. 
Sign up here for our daily Thrillist email and subscribe here for our YouTube channel to get your fix of the best in food/drink/fun.