An Ancient Mayan City Has Been Uncovered in Mexico
Archaeologists say the city would have been an important hub roughly 1,000 years ago.
While some people are spending $250,000 to look at a video feed of a relatively new and already discovered wreck site 13,000 feet beneath the ocean's surface that also has an Oscar-award winning film memorializing the event, others are keeping both feet on dry land and discovering ancient Mayan cities in the jungles of southern Mexico. According to Reuters, the discovery was made by researchers at Mexico's anthropology institute, INAH.
The discovery was made in the Balamku ecological reserve, which is located in the Yucatan Peninsula. The jungle in that area is larger than Luxembourg and mostly unexplored, Reuters reports. The discovered ancient city contained pyramid-style buildings, stone columns, and three plazas. INAH named the city Ocomtún, which means "stone column" in Yucatec Mayan.
Lead archaeologist Ivan Ṡprajc said in a statement shared by the Mexican government that the evidence of ruins continues all the way down to La Riguena River. "It is possible that they are markets or spaces destined for community rituals, but only future research will shed light on the functions of these groups, which represent a regional peculiarity," Sprajc said.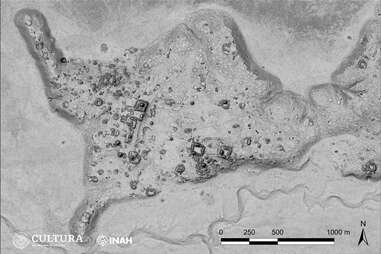 In Ocomtún, Ṡprajc described that "between the two main squares there is a complex made up of various low and elongated structures, arranged almost in concentric circles; a ball court for games is also included."
"The biggest surprise turned out to be the site located on a 'peninsula' of high ground, surrounded by extensive wetlands," Ṡprajc explained. "Its monumental nucleus covers more than 50 hectares and has various large buildings, including several pyramidal structures over 15 meters high."
Based on this evidence, researchers think that Ocomtún was likely incredibly important to the region during the Classic period between 250-1000 AD. The city likely went into decline between 800 and 1000 AD.