Angry Orchard's New Insider's Club Gets You Quarterly Shipments of Hard Cider
Members will score three small-batch ciders a quarter.
Courtesy of Angry Orchard
Staying home—be it to work, drink, whatever—has become heroic by way of the pandemic. You no longer need an excuse to skip the obligatory happy hours. It's simply the right thing to do. That doesn't mean, however, that you've gotta skip that ritual 5 o'clock cocktail as a result. You'll just be pouring it yourself.
Angry Orchard is now launching its first-ever Cider Club to help you with just that. The boozy beverage maker is releasing a series of small-batch hard ciders straight from its New York Hudson Valley HQ and shipped to your door. The seasonally-inspired program, which will release new tastes each quarter, will include three ciders each with detailed tasting notes and food pairings.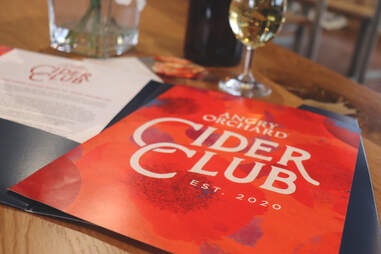 Courtesy of Angry Orchard
"A celebration of the unique home of Angry Orchard on a 60-acre apple orchard, these limited-edition ciders highlight the intricacies of cider making, capturing a variety of cider styles, ingredients, collaborations and more," Angry Orchard wrote in a statement. "Crafted with a careful assortment of apples, including fruit grown right on-site, and a reflection of people and place, Angry Orchard's Cider Club will unlock offerings guests could otherwise only experience at the Cider House."
Beginning Friday, January 22, a Cider Club banner will appear at the top of Angry Orchard's official website where you can sign up. Club members will be billed $75 on a quarterly basis. First shipments will begin in February, but you'll have to be quick on the order, as there are only 250 in stock.

Sign up here for our daily Thrillist email and subscribe here for our YouTube channel to get your fix of the best in food/drink/fun.
Megan Schaltegger is a staff writer at Thrillist.