Angry Orchard Is Releasing a Cheese Wheel Made With Hard Cider
The brand is partnering with Jasper Hill Cheese for the wheel of Willoughby.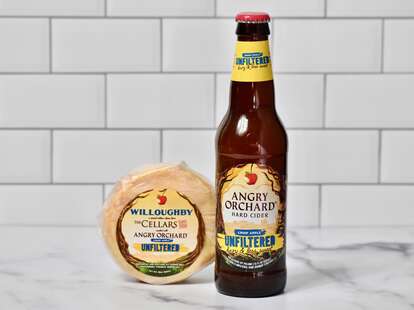 Courtesy of Angry Orchard
It's that time of year when you've got to muster up every last ounce of creativity and start shopping for your friends, family, co-workers, neighbors, whoever. It's arguably easier said than done. How do you buy for the person that's got everything, you ask? You get them a wheel of cheese made with actual hard cider.
Unless, of course, you've got some lactose-intolerant pals in your crew—in which case, abort mission immediately. Angry Orchard has partnered with Jasper Hill Cheese to create a unique wheel of Willoughby that's made with the company's Unfiltered Crisp Apple Hard Cider.
"Willoughby is a soft, washed-rind cheese developed by Jasper Hill Farm, a gorgeous working dairy farm and creamery based in Vermont," Angry Orchard said in a statement via email. "The Willoughby x Angry Orchard cheese delivers a succulent and buttery flavor, paired perfectly with Unfiltered's distinct crisp apple taste and available for purchase nationally at jasperhillfarm.com!"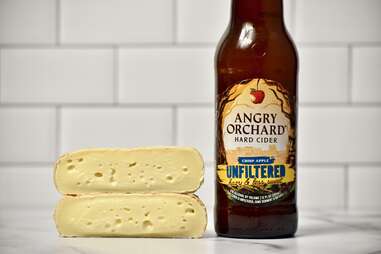 This isn't, however, the first time Angry Orchard has dabbled in the dairy world. In fact, this is the second consecutive year the brand has teamed up with Jasper Hill to create a wheel for the holidays—both of which have incorporated the cider maker's Unfiltered blend. The first batch was smaller than this year's "full release," according to a company rep.
The Unfiltered Crisp Apple has been marketed as both "hazy and less sweet" than your average cider. But basically all you need to know here is that it's good, and according to Angry Orchard, pairs really well with the Willoughby.
"We decided to use Unfiltered as it's one of our latest launches/new flavors, so it felt like a good mix!" a rep for the company told Thrillist. "Also, Unfiltered's less sweet and more crisp flavor pairs really nicely with the buttery Jasper Hill Cheese.
Sign up here for our daily Thrillist email and subscribe here for our YouTube channel to get your fix of the best in food/drink/fun.
Megan Schaltegger is a staff writer at Thrillist.