Anthony Bourdain Bought President Obama Dinner for $6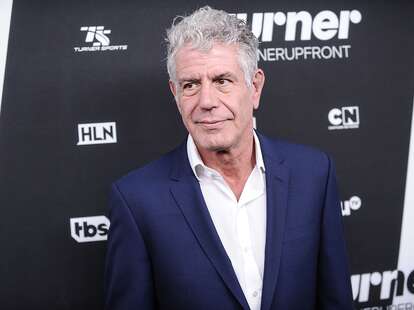 Even a man with as few fears as Anthony Bourdain can be intimidated. No, not by violence, or by airport food (but yes, those), but having dinner with someone more famous than himself: namely, the leader of the Free World, U.S. President Barack Obama.
According to a tweet by the Wall Street Journal's Carol Lee, the host of Parts Unknown had dinner with Obama on Sunday night in Vietnam.
As detailed in a press release from CNN, scenes from the dinner will be broadcast in September, as "Bourdain will explore the purpose of the President's trip and his interest in the people, food and culture of Vietnam." Currently, the President is on a three-day trip to the Asian nation, though he's clearly got his priorities straight, based on details about the meal.
The President and TV host dined at Bún chả Hương Liên which serves a traditional Hanoian dish, Bún chả, which consists of grilled pork, broth, and noodles. Photos make this place look pretty dive-y, which suggests Obama has his head screwed on straight.
This place looks like it could be just about anywhere -- and that's what makes it beautiful.
That meal sounds terrific. What's not to like?
Additionally, if you're worried that the President is susceptible to untoward donations, well, you're right. Bourdain picked up the check.
OK, so maybe $6 isn't that untoward. Hell, imagine if all our politicians had $6 dinners and talked for an hour? Washington would be a lot fuller, happier, and productive place.
In the meantime, you can look forward to hearing the conversation between the two icons come September, which seemingly can't come soon enough.
Sign up here for our daily Thrillist email, and get your fix of the best in food/drink/fun.
Ryan Craggs is Thrillist's Senior News Editor. He used to eat at a Vietnamese place that asked him, "Cold noodle?" even after the 50th time he'd ordered the bun. Follow him @ryanrcraggs.