Anthony Bourdain Is Launching a Culinary Comic Book About Ghosts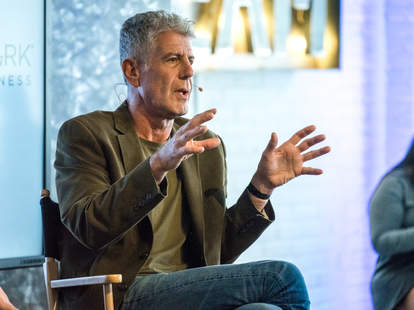 Anthony Bourdain might be on a mission to prove he does just about everything well. Dark Horse Comics will soon be launching Berger Books, a new imprint helmed by Vertigo co-founder Karen Berger, Vulture reports.
Among the first releases from Berger will be a series called Hungry Ghosts by Bourdain and Joel Rose, who previously worked together on the Vertigo series Get Jiro! "The series will be a riff on the Japanese Edo-period game 100 Candles," reports Vulture, "in which samurai would try to one-up each other with stories to freak each other out." Only, in this four-issue anthology series, it won't be samurai telling the ghost stories. It will be chefs. Why wouldn't it be? It makes total sense.
At Vertigo, Berger presided over many classics. Her work provided a platform for distinctive voices like Garth Ennis (Preacher), Steve Dillon (Preacher), Neil Gaiman (Sandman, Lucifer), Marc Hempel (Sandman), and Brian K. Vaughan and Pia Guerra (Y: The Last Man), not to mention the Hellblazer and iZombie comics. (As well as under-appreciated gems like Sweet Tooth, DMZ, and The Unwritten.) So, Berger returning to comics after a few years away is exciting. 
Bourdain's comic will be followed by a non-fiction release from Emma Beeby and Ariela Kristantina called Mata Hari. Berger also announced The Seeds by former Catwoman and Daredevil writer Ann Nocenti. It is set in "an imminent America where fact-based reporting is gasping its last breath" and "flora and fauna have begun to mutate."
The last new series announced was Incognegro: Renaissance, a prequel to a 2008 graphic novel by Mat Johnson and Warren Pleece. Berger Books will also release an oversize edition of Watchmen artist Dave Gibbons' 2004 classic The Originals: The Essential Edition.
The run will start with Bourdain's Hungry Ghosts on January 31, 2018, fulfilling all your ghost chef dreams.
Sign up here for our daily Thrillist email, and get your fix of the best in food/drink/fun.
Dustin Nelson is a News Writer with Thrillist. He holds a Guinness World Record but has never met the fingernail lady. Follow him @dlukenelson.