Anthony Bourdain Explains His Strict 'No Asshole' Rule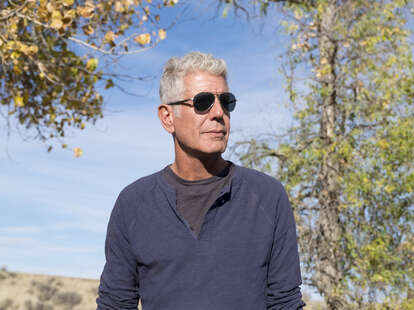 Courtesy of CNN
Courtesy of CNN
As perfectly evidenced by his rules for cooking the perfect cheeseburger or his thoughts about a certain American fast food chain, it seems like Anthony Bourdain is always happy to unleash his unbridled opinion about, well, pretty much anything. That's part of why you like the dude, right? Well, here's another reason to admire the grizzled celebrity ex-cook: he refuses to deal with assholes.
In a recent interview with GQ, the Parts Unknown host and Appetites cookbook author only briefly discusses the subject of food. Instead, Bourdain unloads his many thoughts on deeply personal subjects like the opioid pandemic devastating much of rural America, his love for George Orwell's writings, and even art's political role in the age of "Trumpism." As you've likely come to expect with Bourdain interviews, this one, too, is packed with characteristically foul-mouthed and incendiary quotes. For example, this highlight in which he explains one of the rules he lives by:
"It is truly a privilege to live by what I call the 'no asshole' rule. I don't do business with assholes. I don't care how much money they are offering me, or what project. Life is too short. Quality of life is important. I'm fortunate to collaborate with a lot of people who I respect and like, and I'd like to keep it that way."
Of course, as your morning commute or terrible co-workers remind you every day, not everyone gets to enjoy such a luxury. But it's certainly something to aspire to, right? Bourdain has similar thoughts on how food is often needlessly and annoyingly complicated by overanalyzing it.
"It intrudes on my meal," he told the magazine. "I like to eat like a child, in an emotional way. I don't like to overanalyze. I don't like my food explained with tasting notes. I want to sit down, get a couple of beers, get a buzz, and enjoy my meal."
Then again, this should come as no surprise, considering the things he deem to be "crimes against food." Be sure to check out the full GQ interview with Bourdain for more.
Sign up here for our daily Thrillist email, and get your fix of the best in food/drink/fun.
Tony Merevick is Cities News Editor at Thrillist and wouldn't mind living by a similar rule. Send news tips to news@thrillist.com and follow him on Twitter @tonymerevick.