Anthony Bourdain Reveals His Favorite Cities to Visit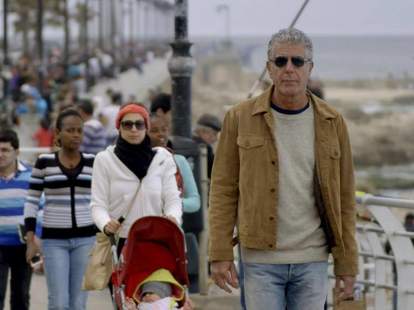 Zero Point Zero Production Inc. 
Anthony Bourdain's one favorite destination is....  oh, come on, the guy couldn't pick just one favorite place. He's been everywhere. However, he did share a few of his favorite destinations in a recent interview. 
Talking with Jennifer Heigl for BootsnAll, the travel and food aficionado was asked to choose a favorite destination, a question he's probably been asked roughly 7 million times. His response: "Vietnam? No. Spain? No. Italy? Japan? I love Saigon, Barcelona, San Sebastian, Venice, Rome, Tokyo, Osaka." Seems like the guy hasn't quite made up his mind yet, but he did narrow it down.
Of all those destinations, Tokyo took the lead when Bourdain was asked to comment on where he would go right this second. "If you handed me plane tickets to anywhere in the world, right now I'd go to Tokyo. I'm in the mood for some sushi – and Tokyo is so fabulously confusing, challenging, exciting." Tokyo it is. 
The former chef also noted that Medellin, Cartagena, Montevideo, and Beirut are totally underrated, and made the bold claim that even "hordes of tourists" can't ruin Rome and Venice. Continuing the whole "Anthony's favorite things" trend, he also named the Chateau Marmont in Los Angeles as his favorite hotel, meaning this place is about to get booked out till forever. 
Check out the full interview here, and then stop living vicariously through Bourdain and just book a flight. 
Sign up here for our daily Thrillist email, and get your fix of the best in food/drink/fun.
Kara King is a News Writer at Thrillist and loves living vicariously. Send news tips to news@thrillist.com and follow her at @karatillie.