There's a Growing Memorial at Anthony Bourdain's Old Restaurant in NYC
Cole Saladino/Thrillist
Cole Saladino/Thrillist
In the days after Anthony Bourdain's untimely death last Friday, fans and admirers all over the world (including here at the Thrillist) have dedicated emotional tributes and other passionate remembrances to the beloved author, television host, and ex-cook turned food icon. In New York, fans have created a poignant memorial at the now-shuttered Brasserie Les Halles, where Bourdain served as executive chef for years -- and where many of the stories in his breakthrough memoir, Kitchen Confidential, were set.
As of Monday, hundreds of people have visited and left handwritten notes, trinkets, flowers, and other offerings (someone even left booze and cigarettes) outside the restaurant at Park Avenue and 29th Street, which closed its doors after bankruptcy in 2017. Bourdain became executive chef there in 1998 and remained there -- either officially as executive chef or unofficially as "chef-at-large" -- through at least the early part of 2014. For that reason, it's one of the few public places where people can mourn Bourdain, much like how people mourned Steve Jobs with similar makeshift memorials at Apple stores.
Handwritten notes attached to the restaurant's papered windows offer an intimate look at the many reason why people love Bourdain so much.
"Thanks for showing us the world Anthony," one person wrote before adding a small heart for punctuation. Other notes thanked Bourdain for his respectful coverage of international communities, praised him for being a genuine force for bringing people together through food and travel, and showed appreciation for the impact he had on the world. Another note dubbed Bourdain "the only other cool white guy, besides Bernie Sanders." Many were addressed to "Tony" rather than Anthony, like the friend he became for so many people who only knew him through his shows or books.
Photos on social media show a similar memorial at Les Halles' previous location on John Street in FiDi.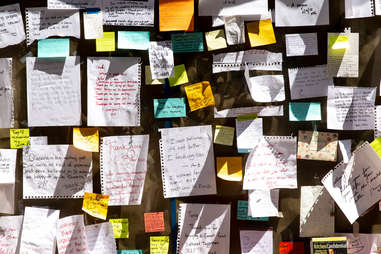 Bourdain died on Friday, June 8, from suicide, according to authorities. CNN said he was in France, working on an episode of his award-winning show Parts Unknown at the time of his death and was found unresponsive in his hotel room by his friend and chef Eric Ripert. He was 61.
If you or someone you know is having thoughts of suicide, call the National Suicide Prevention Lifeline at 1-800-273-8255 (TALK) or go to SpeakingOfSuicide.com/resources for a list of resources.