Anthony Bourdain's 'Parts Unknown' Isn't Leaving Netflix After All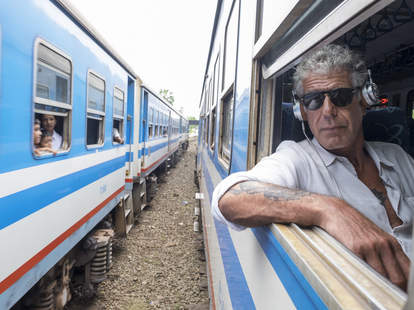 Update, 6/12: Due to the high demand, Netflix tweeted on Tuesday that it extended its deal with CNN and plans on hosting Parts Unknown for "months to come."
There's never been a better time to sink yourself in the comforts of a couch and binge all 11 seasons of Anthony Bourdain's Parts Unkown on Netflix. But your chances of doing that on an indefinite basis are dwindling, because Bourdain's unfortunate death at the age of 61 coincides with more bad news: Parts Unknown is leaving Netflix on June 16.
The move to nix Bourdain's CNN show was already in the works before the acclaimed writer, journalist, chef, omnivore and bon-vivant passed away on June 8. As Netflix's licensing deal with CNN is on the verge of expiring, hordes of Bourdain's fans are pressing the streaming giant to renew the program. The Change.org measure is nearing 6,000 signatures as of this writing. (The show will still be available for purchase on Amazon and iTunes).
While Parts Unknown is more than likely set to depart from Netflix, fans have had the chance to consume a healthy dose of tributes to the acclaimed Bourdain. CNN aired a weekend of coverage honoring the network's late star, while the pages of media outlets have been flooded with a groundswell of heartfelt dedications. 
While Bourdain spent the better part of two decades traipsing throughout the world on television, his brilliant writing often assumed a secondary status to his myriad explorations of culture and cuisine. So with the impending disappearance of  Parts Unknown, it might be worth your time to pick up a copy of Kitchen Confidential, and get lost in his words.  

If you or someone you know is having thoughts of suicide, call the National Suicide Prevention Lifeline at 1-800-273-8255 (TALK) or go to SpeakingOfSuicide.com/resources for a list of resources.
h/t Esquire
Sam Blum is a News Staff Writer for Thrillist. He's also a martial arts and music nerd who appreciates a fine sandwich and cute dogs. Find his clips in The Guardian, Rolling Stone, The A.V. Club and Esquire. He's on Twitter @Blumnessmonster.