Here's What Anthony Bourdain Has To Say About Starbucks' Unicorn Frappuccino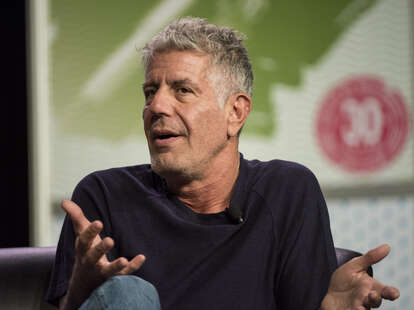 Anthony Bourdain has never been shy about unleashing his unvarnished and often hyperbolic thoughts on food, food trends, and more. That's a big part of why you love the dude, right? Now, the globetrotting food celebrity has -- perhaps inevitably -- weighed in on Starbucks' viralUnicorn Frappuccino and, well, his opinion is more or less exactly what you'd expect: delightfully brutal.
In a wide-ranging new interview with Town & Country, Bourdain shared his sage opinions on topics like terrible restaurant customers, cooking advice for children, and President Donald Trump's steak preferences. He also reiterated his impassioned criticisms of food and drink trends; namely, the "clear and present danger" known as the Kobe slider. But when asked about Starbucks' new and spectacularly sweet and colorful blended drink, Bourdain may have raised his own bar for hyperbole.
"Wow, that's like four things I hate all in one sentence: Starbucks, unicorns, and the colors pink and purple," he told the magazine. "Also a Frappuccino! It's the perfect nexus of awfulness. Just add pumpkin spice to that mix, and you can nuke the whole county."
Bourdain, of course, is far from alone in hating on the Unicorn Frappuccino, although there are plenty of positive reviews for the sweet and sour sugary overload out there, too. The popularity of the seemingly divisive drink has left some Starbucks baristas fed up, while also serving as a boon for late night TV hosts. Regardless of what you think of the colorful non-coffee beverage, there's a good chance you won't have to hear about it for much longer as it's set to disappear from Starbucks' menu on Sunday, April 23.
Sign up here for our daily Thrillist email, and get your fix of the best in food/drink/fun.
Tony Merevick is Cities News Editor at Thrillist and has not had the Unicorn Frappuccino. Send news tips to news@thrillist.com and follow him on Twitter @tonymerevick.