Anthony Bourdain Is Sick of Your Annoying Foodie Children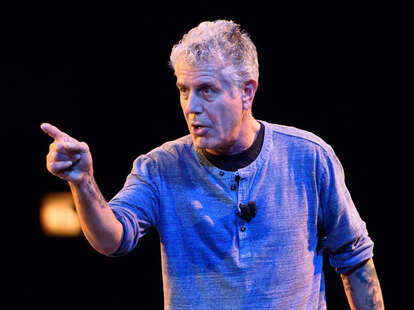 Getty Images
Getty Images
Not only is Anthony Bourdain a globetrotting food personality, a weathered ex-cook, and a beastly Jiu-Jitsu champion, he's also a dad. And as he explains in a new, wide-ranging interview with Esquire, he's pretty careful not to turn his daughter into a horrible foodie kid, a parental fail he describes as "annoying" and "futile." In other words, you just got yet another reason to love the dude.
Along with imparting kid-related food wisdom in the extensive interview, Bourdain also talks about what meals he likes to cook at home, the insanely secretive process of planning lunch with President Obama, and what he learned from the Commander-in-Chief while slurping noodles together in Vietnam. By the way, the new season of his CNN show, Parts Unknown, premieres with the Obama episode on September 25th.
At one point during his meal with the president, Bourdain asked the leader of the free world for a bit of advice, saying, "My daughter is eight, and she put ketchup on eggs the other day, and I didn't know what to do." And according to the Esquire story, President Obama laughed and said, "I think you just gotta say, You know what? That's not acceptable." The guy knows what he's talking about, folks.
But despite his aversion to ruining eggs with ketchup, Bourdain told the magazine he leaves it to his daughter to decide what food she'd like to try and eat, which brings us to the subject of the aforementioned foodie kids:
"The last thing you should ever try to do is to make your child a foodie," Bourdain told Esquire." Nothing could be more annoying or futile. I always ordered her whatever she wanted, so if she wanted grilled cheese or pasta with butter, I was happy to give it to her. But I never dared say, 'Honey, you should try this, it's good,' because if my parents did that to me, of course I'd be like, 'Oh God, no.'"
If you were ever asked (correction: forced) to eat things like brussels sprouts as a kid, you're probably vigorously nodding your head right now. But as with every Bourdain interview, the new Esquire story is more than worth reading in full, especially as you wait for Parts Unknown to come back.
h/t Eater
Sign up here for our daily Thrillist email, and get your fix of the best in food/drink/fun.
Tony Merevick is Cities News Editor at Thrillist and would love to share noodles with both Anthony Bourdain and President Obama. Send news tips to news@thrillist.com and follow him on Twitter @tonymerevick.