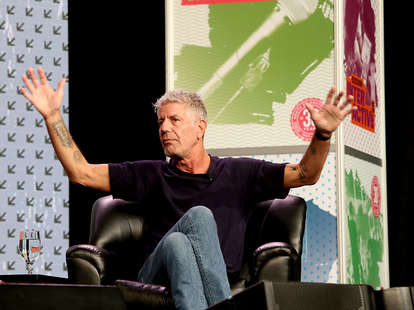 Along with hanging out and discussing digital storytelling at SXSW this weekend, it looks like Anthony Bourdain just wrapped up his recent visit to Nashville -- home of the original and increasingly trendy hot chicken -- for a new episode of his hit CNN show, "Parts Unknown." As expected, the globetrotting celebrity ex-chef got his hands on the city's iconic, ultra-spicy dish, and on Sunday, he shared what's perhaps the best reaction in a post on Twitter:
Bourdain also mentioned his hot chicken tasting experience during a discussion about food and travel storytelling at SXSW on Sunday afternoon. According to a report by the Star-Telegram, he opened the talk with a similar reaction to the food, saying, "It's a three-day experience, verging on four."
Although he didn't mention which of the many famous hot chicken joints he visited on the trip (we'll likely have to wait until the new episode airs on TV), Bourdain previously expressed his interest in finally tasting the insanely spicy fried chicken. In a interview with The Tennessean last year, he said, "If I have a chance to score some hot chicken, I'm going to do that for sure. I'm told it's a religious experience." In the time since that interview, hot chicken has exploded and was even replicated in the fast food space by KFC.
But judging from what he's already said ahead of the new episode, his Nashville hot chicken was a "religious experience"... and apparently much more.
Sign up here for our daily Thrillist email, and get your fix of the best in food/drink/fun.
Tony Merevick is Cities News Editor at Thrillist and needs more friend chicken in his life in general. Send news tips to news@thrillist.com and follow him on Twitter @tonymerevick.