Anthony Bourdain Teases New Details on His Delayed Food Market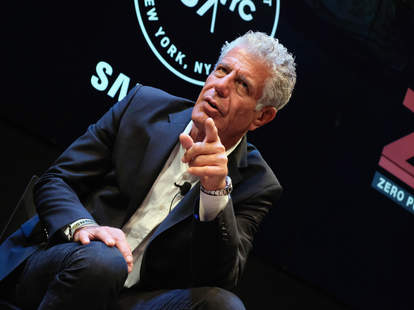 Mike Coppola/Getty Images
Anthony Bourdain may be many things -- ex-cook, globetrotting food icon, Guy Fieri antidote -- but founder of a massive eponymous food market in NYC is not yet one of them. While some have grown skeptical of the culinary mega-project after its opening was delayed until 2019, Bourdain offered new details about the planned international smorgasbord this week. And plenty of assurance.
At a press conference at Manila's World Street Food Congress 2017, Bourdain promised members of the media that his long-delayed, highly anticipated food market (first announced in 2015) would eschew "bullshit" entirely, and focus on the food hawked by street hawkers from around the world. As reported by Eater, Bourdain made it clear that he felt this white whale, a tightly curated "super pier" setup on Pier 57 on the Manhattan side of the Hudson River, would only offer the best of the best, and that doing that presented challenges.
"We're creating a living, breathing, stinking market."
"Is there a market in New York for char kway teow? I don't really give a shit," Bourdain said, referring to the popular Southeast Asian noodle dish. "I love it and I'm pretty sure that if New Yorkers are introduced to good char kway teow, they will love it, too. The determining factor to me is that if a Singaporean grandmother and her hipster grandson come to this market, that both of them will immediately recognize this to not be bullshit. This will not be some Disneyland version of McHawker or HawkerWorld. We're talking about the widest selection of the real deal."
In Bourdain's words, accomplishing that doesn't mean "a modern, Westernized take.... We will need open flame. We need the smells. We're looking for a sense of controlled chaos. We're creating a living, breathing, stinking market."
Hudson Pier 57, where Bourdain plans to open his food market.

| Shutterstock
Bourdain knows he won't please everyone.
Bourdain acknowledged a few simple truths about creating this space, one of which being, "I don't know if the Bourdain Market will be the first place a committed vegan will come to enjoy their food of choice." He promised there
would
be vegetarian and vegan options, especially from cuisines like India and others from around the world, though.
He promised Filipino food, particularly sisig, would be a highlight of the market when it opened. "Filipino food is definitely underrated worldwide," Bourdain said. "In New York, it doesn't have hipster credibility yet. But things are changing, and I hope to be a part of that change."
Eater also reports that it was not Bourdain's original intention to put his name on the project, and that he made it clear to local press that he did not intend to steal hawkers from their local businesses in Singapore or elsewhere, but rather create a space for them to expand their operation to the US.
Still, we're right to be a little concerned at this point.
It could be great. It could freaking delicious. It could also be
a giant let-down, as we've explained before
. Bourdain's comments today fit squarely in line with the commitment to excellence that he made clear last year, when the market was pushed back to 2019:
"There are some vendors who absolutely, positively need to be here, at least for a reasonable period, to train whatever people they want to bring with them or local people," he told Adweek at the time. "I mean, if we're going to be doing Tian Tian Hainanese chicken rice in New York City, the expectations of Chinese who've grown up here or have lived here for the last 15 to 20 years waiting for just such an establishment are going to be pretty enormous. We cannot disappoint, OK?"
By the time 2019 rolls around, folks will have been waiting for this market for four years. So no, Tony, disappointment is not an option.