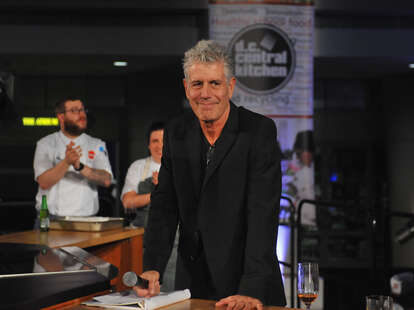 LARRY FRENCH/STRINGER/GETTY IMAGES
Thanks to a handful of new renderings posted on social media last week, we finally have a sense of what Anthony Bourdain's massive NYC food market might look like when it opens sometime next year. And now, the wandering celebrity chef has shared a new entry on The List App detailing 10 foods and vendors he hopes to bring to the international eatery, aptly named Bourdain Market.
The wish list includes delicious-sounding favorites from his extensive eating adventures, such as octopus and cod ceviche tostada from Mexico and Hainanese Chicken Rice from Singapore. In fact, Bourdain describes the list as, "Dishes from my travels that I want, badly, for my eventual market in NYC. These are the dishes, as prepared by the original vendors, that we need and deserve." It's perhaps the best look, so far, at what to expect among the more than 100 vendors that will eventually appear in the 155,000sqft market. Here's the full list:
White pepper crab from JB Ah Meng in Singapore
Octopus and cod ceviche tostada from La Guerrerense in Ensenada, Mexico
Hainanese Chicken Rice from Tian Tian Hainanese Chicken Rice in Singapore
Noodle Soup with brisket and shrimp wontons from Mak's Noodle Shop in Hong Kong
Dim Sum from Tim Ho Wan in Hong Kong
Bun Thai from The Lunch Lady in Ho Chi Minh City, Vietnam
Geylang claypot rice from 649 Geylang Claypot Rice in Singapore
Roast goose and barbecued pork from Joy Hing Roasted Meats in Hong Kong
Char Kway Teow from Hill Street Fried Kway Teow in Singapore
Sarawak laksa from Choon Hui Cafe in Kuching, Malaysia
h/t Eater
Sign up here for our daily Thrillist email, and get your fix of the best in food/drink/fun.
Tony Merevick is Cities News Editor at Thrillist and is a huge fan of massive food markets. Send news tips to news@thrillist.com and follow him on Twitter @tonymerevick.