Anthony Bourdain Reveals His Greatest Fears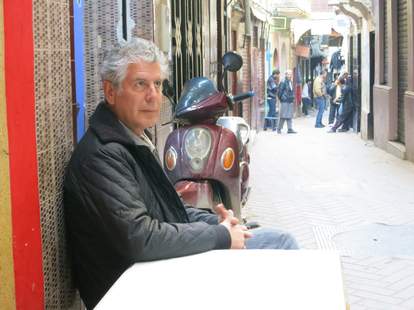 Zero Point Zero Production Inc.
You may think that a dude who chows down on fetal duck egg like it's a candy bar is totally fearless. But that's just not true. Despite his documented bravery in the face of most anything edible, Anthony Bourdain says a few things actually scare the shit out of him. For starters, Switzerland.
In a write-up entitled "Scary Shit," published on the List App, Bourdain outlines what makes him quake, proving that the Parts Unknown host is not entirely fearless. In reality, he's just a regular dude who's afraid of clowns. 
Here's the list, complete with excerpts from his explanations:
1. Clowns: "They were always sinister figures, disguising their homicidal intentions under thick make-up, all the while their crawl spaces and chest freezers were brimming with Cub Scout parts."
2. Mimes: "Their purposes are always to embarrass, to draw attention to the shy, the troubled, the hungover. Pure evil."
3. Switzerland: "I live with a persistent dread of alpine vistas, chalet architecture, Tyrolean hats, even cheese with holes in it. You will notice I have never been there. That's because Switzerland frightens me."
4. Karaoke: "Karaoke should only be performed with people who have already seen your genitals." (He makes an exception for Korean karaoke)
5. Rats: "A poisoned rat once crawled out of a wall and flopped limply onto my foot to die. They had to scrape me off the ceiling."
Also mentioned briefly are Polka music, ukeleles, neckbeards with banjos, golf clothes, golfers, The Real Housewives of Anywhere, pressure cookers, and extra hot Nashville Hot Chicken. But if you're a true Bourdainophile, you'll want to read the complete write-up. 
So there you have it. The guy has fears. These fears just don't involve fetal duck egg. And seriously, does anyone actually like clowns?!
Sign up here for our daily Thrillist email, and get your fix of the best in food/drink/fun.
Kara King is a News Writer at Thrillist and is terrified of clowns. Send news tips to news@thrillist.com and follow her at @karatillie.